Photo of 'Biden 2020' Graffiti With Incorrect Anarchy Symbol Goes Viral
A photo of a burning garage the owners say was targeted in an arson attack because they had Trump 2020 banners displayed has gone viral, with some questioning the validity of the claims.
Police have launched an investigation into the fire at a property in that which saw a garage, trucks and a trailer—covered with two large Trump flags—set alight early on Wednesday morning in the city of Brooklyn Center, close to Minneapolis.
The garage suffered substantial damage but the main house was only partially impacted and no injuries were reported.
Denis and Deana Molla, who own the property, said they found graffiti daubed on their garage reading "Biden 2020" and "BLM"—short for Black Lives Matter—alongside an anarchist symbol. Photos showed the symbol was drawn incorrectly, without the lines of the A extending outside the circle.
Speaking to CBS Minnesota, Denis Molla said: "I heard just a big, loud boom, or a bang. The first thing for me was my kids, my wife. What's going on?
"It just shocked me. This kind of stuff should not happen, especially over beliefs of some sort."
Seven dogs were also rescued from the home.
However, some questioned the validity of the claims on social media, with one commenting on the story: "When you try to false flag the left, but you don't know what the anarchist symbol looks like..."
Another wrote: "One of the best things about leftism is that no matter how hard they try, conservatives can never fake it because they don't understand it. No leftist would ever spraypaint "Biden 2020" and an anarchist symbol on anything."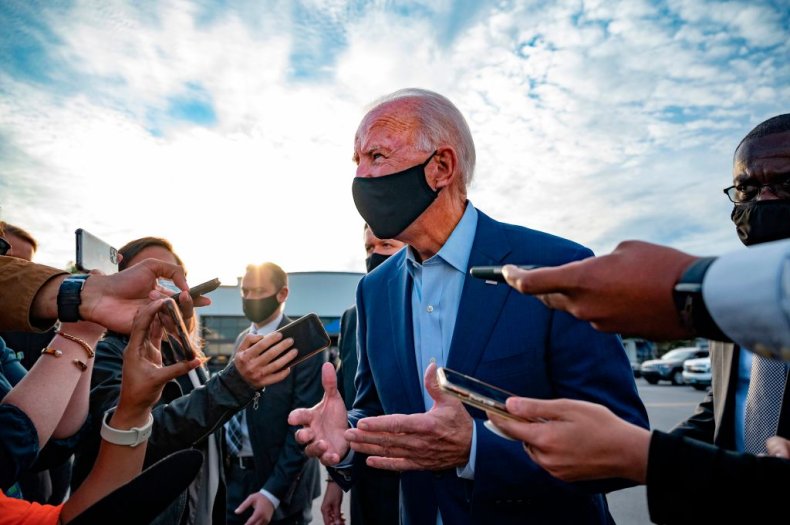 Police said in a statement that the fire was "considered suspicious, and our investigation remains extremely active."
Commander Garrett Flesland added: "Everything is on the table. We are keeping our minds and our ears open. We're just going to let the evidence take us where it goes."
Brooklyn Center police say the Minnesota Arson Reward Project is offering a $5,000 reward for information on the case.
The Bureau of Alcohol, Tobacco, Firearms and Explosives and the FBI are also investigating.
Newsweek has contacted Brooklyn Center Police Department for comment.
The viral image is not the first in recent weeks to involve placards declaring support for the president.
Earlier this week a photo of a Trump sign attracted attention after it appeared to be protected by razor wire.
The image showed a large Trump-Pence placard in the front yard of a voter's home in Big Lake, Minnesota, with the slogan: "Keep America Great."
Surrounding the banner was waist-high razor wire.
Last week police in Maine launched an appeal to trace a female suspect they said had been targeting homes with Trump signs by posting feces through mailboxes.
Police were alerted after residents in Hampden reported finding contaminated mail. Officers said at least three mailboxes were found to have feces in them.
Alyshia Canwell, a patrol officer with Hampden Public Safety, said: "[The suspect] has been picking up dog feces and putting it in mailboxes, specifically of people who have Trump signs outside. She also has been defacing Trump signs, writing comments on the signs."