President Joe Biden will address the country for the first time since the Taliban retook power in Afghanistan as America withdrew its troops following a 20-year long war.
Biden defended his decision to leave Afghanistan in a statement on Saturday, saying that remaining in the country wouldn't have made a difference. However, he faced criticism for not speaking directly to Americans amid the chaotic retreat, which saw the evacuation of embassy personnel and Afghanis risking their lives to flee the country.
Cutting his time at Camp David short, Biden was set to return to the White House on Monday afternoon. His address is scheduled for 3:45 ET and is expected to be delivered from the East Room.
The president's address will air on the White House's YouTube channel and on C-Span's website, as well as the C-Span television channel. Other networks may pause their planned coverage to cover the president.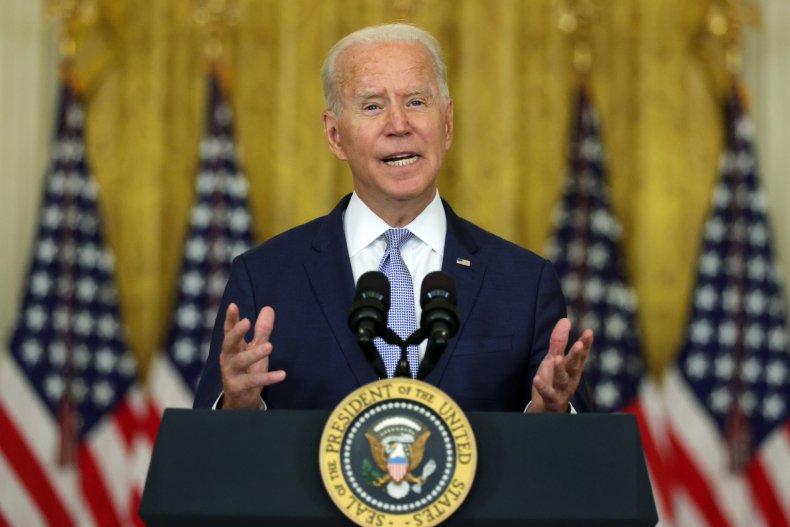 Former President Donald Trump has been an unrelenting critic of Biden's exit strategy, but the president and other White House officials have blamed Trump for leaving his successor with few options.
Trump negotiated a May 1 withdrawal of troops with the Taliban and on Saturday, Biden said the few troops that remained in Afghanistan were in "harm's way." This put Biden in a position to either "follow through on the deal" or send more American troops to fight in Afghanistan's civil conflict. The fourth president to preside over the war in Afghanistan, Biden said he refused to pass it onto his successor.
Biden and his National Security Adviser, Jake Sullivan, put some of the responsibility for the Taliban's rise to power on the Afghan people. Having helped train Afghan forces, Sullivan told Today that America couldn't give Afghanistan's military the "will" to fight for Kabul and their country.
Sullivan added that it wasn't foreseen that Afghan forces wouldn't put up a significant battle for Kabul, defending Biden's assertion that it wasn't "inevitable" that Kabul would fall. However, legislators expressed significant concerns about the fate of Afghans in June, urging the Biden administration to expedite the process of evacuating thousands of Afghan allies who helped the U.S. during the war.
While the situation in Afghanistan is making Biden a target for intense criticism, Sullivan denied this is the "worst case scenario."
"I think the worst case scenario for the United States would be a circumstance in which we were adding back in thousands and thousands of troops to fight and die in a civil war in Afghanistan when the Afghan army wasn't prepared to fight in it itself," Sullivan said.