As Biden Addresses Rising Crime, New York Voters Reject 'Defund the Police'
A year after protests against police brutality and racial injustice swept the nation, Americans are now leaning away from defunding the police and elected officials are following suit, providing additional resources to law enforcement amid a rise in crime in the country's largest cities.
President Joe Biden is expected to unveil a multi-part strategy to target gun violence in the United States on Wednesday afternoon and one of the administration's approaches will be to provide additional resources for local law enforcement in preparation for what is expected to be a violent summer.
And while the tally for the New York City Democratic primary is still being counted, the leading candidates show that voters are casting their ballots in favor of police supporters and away from those that support defunding the police.
With 84 percent of votes reported, former police officer and Brooklyn Borough President Eric Adams and his campaign message targeting public safety is leading the race, according to the Associated Press.
"Tonight we took a huge step forward," Adams said on Tuesday. "As a city, we're going to turn our pain into purpose. We're going to become a safe, affordable, fair city."
The latest developments show a shift away from last summer's dominating rhetoric that called on local and state governments to divest from police budgets and reallocate the money into other non-policing community services.
While many major cities announced budget cuts and various police reforms last year, elected officials are recalibrating their messages as shootings and murders have sharply risen across the country.
On Wednesday, White House Press Secretary Jen Psaki told reporters, "The president has never supported defunding the police. He's always supported community policing programs."
"He thinks there is an essential role to play for community policing," she continued.
Pitted against former President Donald Trump who hailed himself as the "law and order" president, Biden walked a cautious line on last year's campaign trail, saying he opposed defunding the police but that some funding could be directed to other forms of public safety.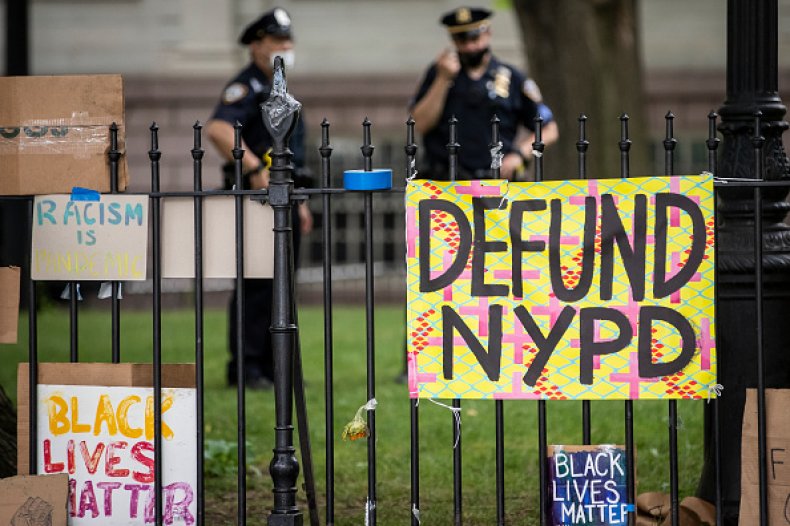 A number of New York City's mayoral candidates have also distanced themselves from the defund the police movement in hopes of winning over moderate voters as the city saw a spike in crime.
In May, the New York City Police Department saw a 22 percent increase in overall crime, a 46.7 percent increase in robbery and a 73 percent increase in shooting incidents, compared to May of last year.
Although stay-at-home orders and lockdown orders may have caused a decrease in crime, the NYPD has also seen a rise in hate crimes, with a 335 percent increase in crimes targeting Asian New Yorkers and an 80 percent increase in crimes targeting Black New Yorkers.
Three of the four top candidates—Adams, Kathryn Garcia and Andrew Yang, who conceded late Tuesday—have publicly said they do not support decreasing police funding. Adams has also argued that defunding the police would worsen crime for communities of color that suffer from the most violence.
But the second leading candidate, Maya Wiley, former counsel to Mayor Bill de Blasio, shows the division between the city's progressives and moderates.
While Adams has a nearly 10 point lead over Wiley, Wiley, who has often been critical of De Blasio's handling of police and has stated she would support an annual $1 billion decrease from the city's police budget, has received more than 22 percent of first-choice votes.
Wiley has also been endorsed by key progressives who have publicly voiced support for the defund the police movement, such as Rep. Alexandria Ocasio-Cortez.
However, the candidate with the largest commitment to defunding the police, Dianne Morales, has only won 2.8 percent of New York's first-choice vote, suggesting that most residents support a greater law enforcement presence amid the city's crime spike.
"There are major cities across the country where gun violence is absolutely the driver, where it is absolutely increasing, and that will be a central part of what [Biden] will talk about when he delivers his remarks," Psaki told reporters on Tuesday. "He also believes that we need to ensure that state and local governments keep cops on the beat, that we're supporting community policing, and that's a key part of it as well."
Biden's plan is also expected to invest in community violence programs, stem the flow of illegal firearms, expanding summer programming to young adults and helping formerly incarcerated individuals re-enter society.