Biden Admin Argues for Death Penalty He Vowed to Abolish
The Department of Justice (DOJ) is looking to carry out the death sentence of a man who killed 8 people on a New York City bike path in 2017 despite a moratorium on capital offense cases imposed by President Joe Biden at the start of his administration.
This past September, U.S. prosecutors indicated that they intended to ask a group of New York City jurors to authorize the use of the death penalty against 35-year-old Sayfullo Saipov, an Uzbekistani national who was convicted last month in the 2017 murder of more than half-a-dozen people using a rented Home Depot pickup truck. Saipov was later found with a flag and documentation suggesting allegiance to the Islamic State of Iraq and the Levant, a terrorist regime colloquially referred to by its acronym: "ISIL."
If imposed—as the federal government is asking jurors to do in a Monday hearing—Saipov will be the first Manhattan defendant sentenced to death since 1963, according to the Death Penalty Information Center.
However, it will also represent a conspicuous shift in policy for an administration that campaigned on a promise to "work to pass legislation to eliminate the death penalty at the federal level" in-favor of a policy to issue "life sentences without probation or parole" for the country's most grievous offenses.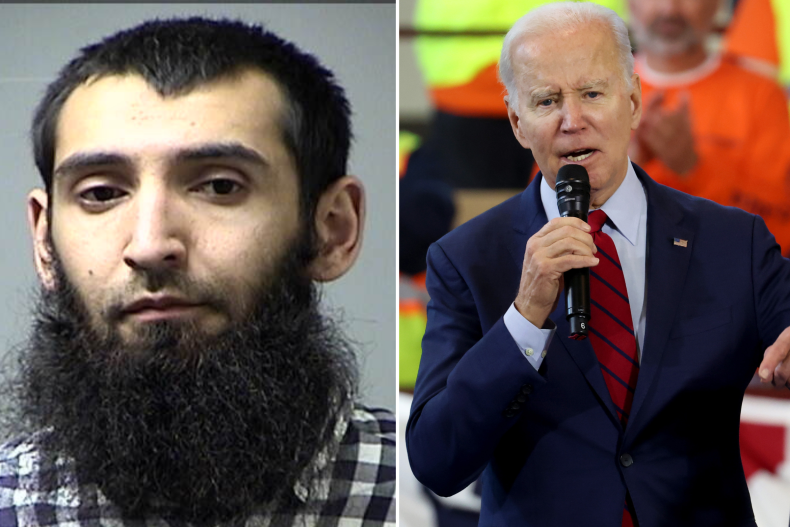 After a years-long hiatus, former President Donald Trump and his Attorney General, William Barr, took a hardline approach on federal death penalty cases, reimposing the punishment and racing to execute more than a dozen capital sentences in the final six months of his term.
And while Biden, who was also a senator, was once instrumental in passing legislation that helped put many of the condemned inmates on death row, he praised states like New Hampshire on the campaign trail for voting to eliminate capital punishment, while his DOJ later placed a moratorium on executions as it began reviewing its department's policies on it.
The sudden change in policy is unclear. While Saipov's case dates back to the Trump administration, the request for a death sentence was clearly pushed for under Biden's DOJ, which has not offered a public rationale for why the moratorium has ended.
However, the Biden DOJ has several times pushed to reinstate the death penalty for convictions secured under prior administrations, oftentimes successfully.
In October 2021, the DOJ notably reversed course in its successful bid to ask the U.S. Supreme Court to reinstate the death sentence for Boston Marathon bomber Dzhokhar Tsarnaev after an appeals court had overturned it. The Biden DOJ also won an appeal of a decision overturning the death penalty for white supremacist Dylann Roof, who was convicted of murdering nine Black men and women in a South Carolina church in 2015. Those cases, however, could be seen more as upholding the integrity of the DOJ's prior actions.
"Usually in these cases, the issue is generally the government didn't do everything right, they made a mistake, or they withheld some information," Richard Dieter, interim director of the Death Penalty Information Center, told Newsweek on Monday. "It's understandable that the Justice Department would want to defend its actions or maybe prior actions. Just because it was another administration doesn't mean that it violated any of the procedures. And then the end result is maybe a death sentence."
The Saipov case is a little different, however. While the case began under a different administration, the case will be a defining one in how Biden's administration evaluates capital cases, particularly with others—like the capital murder trial for Pittsburgh's Tree of Life synagogue shooter Robert Bowers—remain on the docket.
"While this is case that technically was begun in the prior administration, they have plenty of chance now to make it their own," added Dieter. "The trial is, at this time, in the sentencing phase. And it's their choice."
Their rationale is standard fare for capital cases. In court documents, federal prosecutors allege Saipov committed the offense in "an especially heinous, cruel, and depraved manner" involving "substantial planning and premeditation" they say lays the potential for the present and future possibility of committing violent offenses. Saipov's attorneys have noted in previous arguments that their client has continued to profess his allegiance to ISIL. Meanwhile, prosecutors also argued, and made note of his stated intent to "continue his attack in New York City had his truck not been rendered inoperable."
Newsweek has contacted the DOJ comment. However, the apparent change in policy has already played a role in Saipov's defense.
In a recent filing, Saipov's attorneys argued whether the government's terrorism charges were based on Saipov's religion, and questioned why the federal government appeared to be reneging on its prior moratorium on federal executions, noting that Attorney General Merrick Garland's office declined to authorize the death penalty in deadlier attacks like the deadly 2019 shooting at an El Paso, Texas, Wal-Mart that killed nearly two dozen people.
"It appears arbitrary for DOJ to spare some defendants but single out Mr. Saipov, a Muslim immigrant, for the death penalty even though their culpability is arguably greater," they wrote in a letter arguing against the death penalty, highlighting nine similar capital cases they believed matched theirs.
Saipov's attorneys highlighted statements made by Trump arguing Saipov should be put to death—a statement some speculated led prosecutors to initially signal their intent to pursue capital punishment in 2018.
"NYC terrorist was happy as he asked to hang ISIS flag in his hospital room," Trump tweeted the day after the Halloween attack. "He killed 8 people, badly injured 12. SHOULD GET DEATH PENALTY!"
Prosecutors, however, argued those statements—and Saipov's arguments—failed to prove there was any discriminatory intent in pursuing death against him.
Whether a jury agrees, however, is another story. Of the dozen jurors, just one needs to object in order to reduce Saipov's death sentence to one of life in prison. And in New York, the city's liberal sensibilities have caused some to speculate whether its residents will be willing to unanimously rule in-favor of Saipov's death.
But the bigger question lingering now, Dieter said, is what this case means for the duration of the Biden administration and its attitude toward a practice he once sought to abolish as his DOJ considers similar cases in Pittsburgh and in the wake of a potential hate crime at a Buffalo, New York, supermarket.
"The penalty phase starting today is emblematic of the uncertainty that exists about this policy moving forward," said Dieter.