Is Biden Admin Blaming Putin for Gas Prices? Jen Psaki Sets Record Straight
White House Press Secretary Jen Psaki and Fox News correspondent Peter Doocy duked it out in a tense question and answer round on Monday over who's to blame for skyrocketing gas prices in the United States.
"It sounds like you guys are blaming Putin for the increase in gas prices recently," Doocy told Psaki. "But weren't gas prices going up anyway because of post-pandemic supply chain issues?"
Psaki, citing analysts, stated that there isn't a question that recent gas price spikes—and anticipated spikes—are "a direct result of the invasion of Ukraine."
Doocy pressed on regardless, arguing that the Biden administration pledged to "do everything [they] can to reduce the impact that high gas prices have on Americans," and questioned why the U.S. couldn't just pump oil instead of asking other countries to do so.
Psaki began stating that federal policies are not limiting the supplies of oil and gas but was interrupted by the correspondent, who noted that the Biden administration had issued an executive order that halted new oil and gas leases on public land.
"Peter let me give you the facts here," Psaki shot back. "I know that can be inconvenient but I think they're important in this moment."
"We have actually produced more oil, it is at record numbers and we will continue to produce more oil—there are 9,000 approved drilling permits that are not being used," Psaki said. "So the suggestion that we are not let allowing companies to drill is inaccurate. The suggestion that that is what is hindering or preventing gas prices to come down is inaccurate."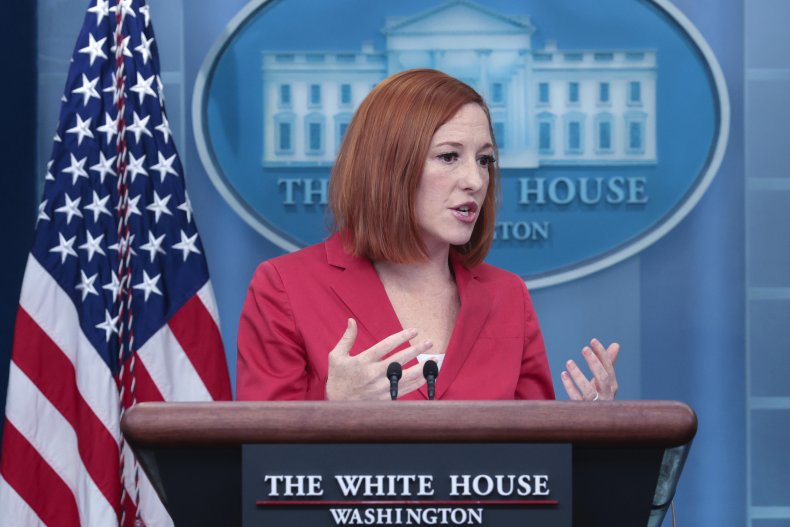 The national average price of gas broke the existing record on Monday, spiking to $4.104 per gallon, according to gasoline analyst GasBuddy. The previous all-time high was set back in 2008 at $4.103 per gallon.
Patrick De Haan, head of petroleum analysis at GasBuddy, said in a news release that the rate of price increases for gasoline is unprecedented for Americans. The national average is seeing its largest seven-day spike at 49.1 cents per gallon, beating the 49 cents weekly rise after Hurricane Katrina in 2005, according to GasBuddy.
"Americans have never seen gasoline prices this high, nor have we seen the pace of increases so fast and furious," said De Haan. "That combination makes this situation all the more remarkable and intense, with crippling sanctions on Russia curbing their flow of oil, leading to the massive spike in the price of all fuels: gasoline, diesel, jet fuel and more."
"It's a dire situation and won't improve any time soon," he said. "The high prices are likely to stick around for not days or weeks, like they did in 2008, but months. GasBuddy now expects the yearly national average to rise to its highest ever recorded."
Newsweek reached out to GasBuddy for additional comment.