President Joe Biden is standing by Joint Chiefs of Staff Chairman General Mark Milley amid controversial reports about conversations that he had with his Chinese counterpart near the end of the Trump administration.
"I have great confidence in General Milley," Biden told reporters at the White House on Wednesday.
Several Republicans, including members of Congress, have called for Milley's ouster over allegations that he sidestepped then-President Donald Trump to assure the Chinese government that the United States wouldn't plot a surprise attack. Milley's most ardent critics, already disturbed by the chaotic end to the war in Afghanistan last month, have accused him of treason and called for him to face being court-martialed over his interactions with China.
But Joint Staff spokesperson Colonel Dave Butler said in a statement Wednesday that Milley was operating under standard procedures and was trying to assure the Chinese government in light of false intelligence.
"The Chairman of the Joint Chiefs regularly communicates with Chiefs of Defense across the world, including with China and Russia," Butler said. "These conversations remain vital to improving mutual understanding of U.S. national security interests, reducing tensions, providing clarity and avoiding unintended consequences or conflict."
The calls between Milley and General Li Zuocheng of the People's Liberation Army were first reported based on information in a forthcoming book, Peril, by Bob Woodward and Robert Costa, citing unnamed sources.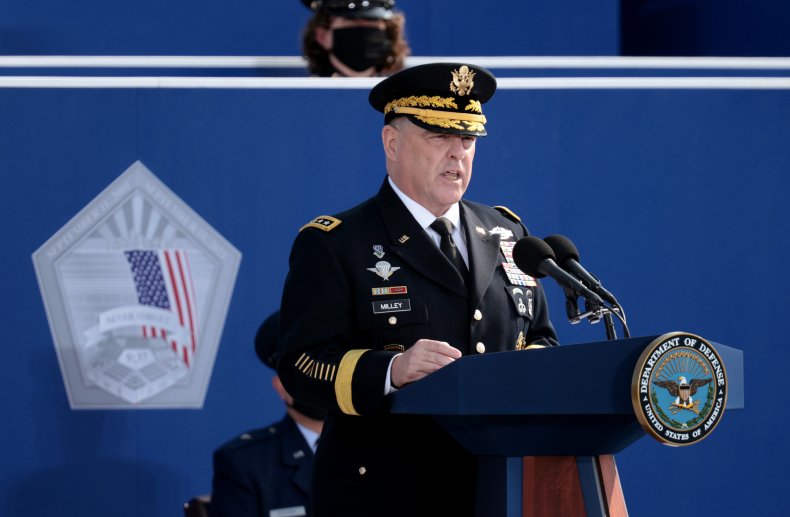 The book claims that the phone calls took place in October—just days before Biden defeated Trump in the 2020 presidential election, and in January, two days after Trump supporters stormed the U.S. Capitol in an attempt to disrupt the certification of Biden's election. Congressional leaders and then-Vice President Mike Pence had to be rushed to safety in the violent attack that played out live on television and social media.
Butler's statement appears to confirm the timing but denies that the communications were improper.
"His calls with the Chinese and others in October and January were in keeping with these duties and responsibilities conveying reassurance in order to maintain strategic stability," Butler said in the statement. "All calls from the chairman to his counterparts, including those reported, are staffed, coordinated and communicated with the Department of Defense and the interagency."
Butler also confirmed that Milley met with senior Pentagon leaders to discuss nuclear weapons protocols. According to reports, the book characterizes the meeting as a way to prevent Trump from erratically launching nuclear weapons in his final days in office, but Butler again described the event as routine.
"In keeping with his responsibilities as senior military advisor to the President and Secretary of Defense, General Milley frequently conducts meetings with uniformed leaders across the Services to ensure all leaders are aware of current issues," Butler said. "The meeting regarding nuclear weapons protocols was to remind uniformed leaders in the Pentagon of the long-established and robust procedures in light of media reporting on the subject."
White House press secretary Jen Psaki dismissed concerns from Republicans about Milley's suitability to continue as the country's top military officer.
"I don't think the President is looking for the guidance of members of Congress who stood by while the President of the United States and the leader of their party fomented an insurrection and many of them were silent," she said.
Psaki characterized the reported information on the China calls as "anonymous unconfirmed reports about conversations with limited context."
"The President has complete confidence in his leadership, his patriotism, and his fidelity to our Constitution," Psaki said. "Obviously, Chairman Milley has been by his side for almost eight months, the President's experience with him is that he is a man of honor."