President Joe Biden's administration said Wednesday it doesn't plan on closing any Texas child care facilities housing immigrant minors, rebuking a recent order from GOP Governor Greg Abbott to remove the sites' licenses.
A spokeswoman for the U.S. Department of Health and Human Services (HHS) said that the agency's "top priority is the health and safety of the children in our care."
"We are assessing the Texas directive concerning licensed facilities providing care to unaccompanied children and do not intend to close any facilities as a result of the order," Sarah Lovenheim, assistant secretary for public affairs at HHS, wrote on Twitter.
The statement comes a day after Abbott issued a disaster declaration in 34 counties along the state's border with Mexico. It stated that Biden's "open-border policies have paved the way for dangerous gangs and cartels, human traffickers, and deadly drugs like fentanyl to pour into our communities."
The disaster declaration authorizes all necessary and available resources to assist state and local law authorities in protecting residents from property damage, trespassing and human trafficking.
Abbott also directed the Texas Health and Human Services Commission to "take all necessary steps to discontinue state licensure of any child care facility under a contract with the federal government that shelters or detains unlawful immigrants."
According to The Dallas Morning News, 52 state-licensed residential operations and child placing agencies have contracts with the federal Office of Refugee Resettlement to care for undocumented migrant minors.
In his disaster order, Abbott said that the surge of migrants crossing the southern border is putting additional strain on the state's foster care system.
"The unabated influx of individuals resulting from federal government policies threatens to negatively impact state-licensed residential facilities, including those that serve Texas children in foster care," the Republican governor wrote in the order.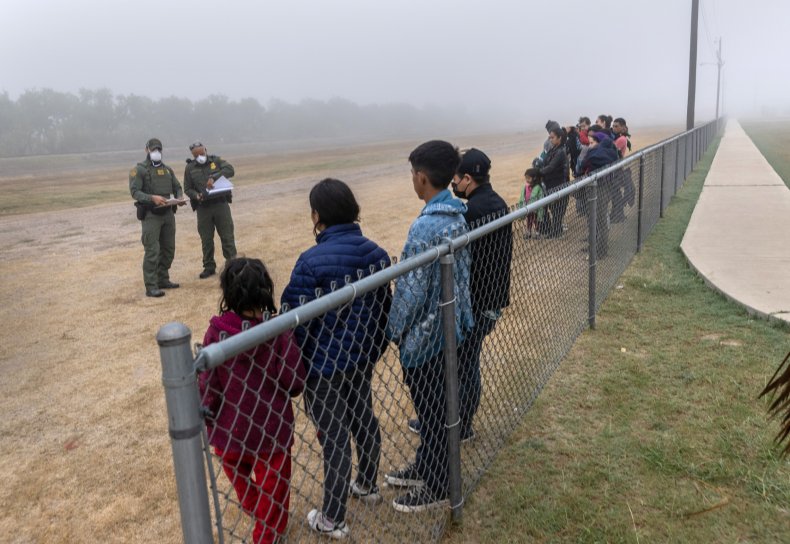 In April, immigration officials stopped almost 179,000 people trying to cross the southern border, the largest figure in more than two decades, according to data released by U.S. Customs and Border Protection (CBP).
The number of unaccompanied minors taken into custody dropped roughly 9 percent from a record high of 18,960 in March to 17,171 in April.
"CBP continues to see a large influx of illegal migration along the Southwest Border," Senior Official Performing the Duties of Commissioner Troy Miller said in a statement last month.
After Biden halted expulsion of migrant children, the federal government had to find new ways to house record numbers of unaccompanied minors. The administration raced to establish 10 large emergency facilities and was spending as much as $60 million per week to shelter migrant children, according to The Washington Post.
Newsweek reached out to Abbott's office for a response to HHS's statement but didn't receive a response before publication.