Kamala Harris' El Paso Visit Signals Departure From Trump Border Policies
As Vice President Kamala Harris touched down in El Paso, Texas, Friday for a highly-anticipated visit to the U.S.-Mexico border, Biden administration officials back in Washington, D.C. told reporters that Harris chose El Paso as a symbolic reminder of the previous administration's controversial immigration policies.
"I would say that El Paso has an interesting history, as you may know, because it was the place where the former president kind of—it was a base place of where he put in place some of his immigration policies that we felt were so problematic," White House Press Secretary Jen Pskai said.
Harris' trip comes amid resounding criticism from Republicans and some Democrats over the fact that neither Harris, who was assigned to address the root causes of migration from Central America to the U.S. by President Joe Biden, nor Biden himself had been to the border as record numbers of migrants make contact with immigration officers.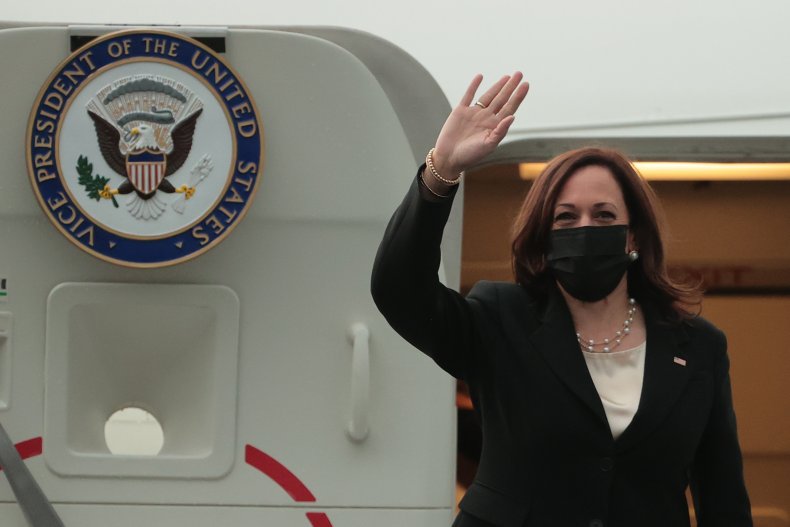 The administration of former President Donald Trump instituted a "zero tolerance" migration policy in 2018 that drew national attention and outrage for its practice of separating children from their parents at the border. In El Paso, Harris told reporters that the visit to the border had been on the books since March and that the choice of El Paso should signal a redirection down a more humane path for crossing migrants.
"It is here in El Paso that the previous administration's child separation policy was unveiled," Harris said, adding that the "remain in Mexico policy" forced asylum seekers to wait on the other side of the border for their claims to be arbitrated.
Harris spent the afternoon touring a Customs and Border Protection processing center, where she met the migrant children being housed there. She then visited an intake center on the border and led a roundtable discussion with the local organizations and agencies serving the migrant population.
But Harris answering the calls by Republicans to travel to the border is unlikely to assuage concerns that the Biden administration is weak on immigration. Senator Ted Cruz, though happy that Harris visited, was ready to offer criticisms: "...if the vice president came to Texas without a concrete plan to secure our border and is unwilling to reverse her administration's failed immigration policies that caused the crisis, then her visit is nothing short of a glorified photo-op."
U.S. Customers and Border Protection recorded more than 180,000 encounters on the Mexican border in May alone, the highest numbers in more than 20 years.
While Republicans appear prepared to continue leveraging immigration as an incendiary issue, Trump said he would visit the area within days of the vice president. Harris emphasized the consequences past policies have had for the border and migrants.
"We have seen the disaster that resulted from that here in El Paso," she said.