Biden Admin Joins U.S. Allies in Sanctioning Chinese Officials for Uyghur Human Rights Abuse
The United States, in coordination with Canada, the European Union and United Kingdom, will implement sanctions against China in response to the nation's treatment of Uyghur communities and others belonging to ethnic or religious groups its government considers minorities.
The People's Republic of China has already been condemned by U.S. and Canadian officials for systemic repression of, and violence toward, Uyghur people, who are predominantly Muslim. The Department of State declared its use of internment camps in Xinjiang, an autonomous region largely populated by Uyghurs, an act of genocide earlier this year.
"Today, the United States, in unity with our partners, is imposing sanctions against Wang Junzheng, the Secretary of the Party Committee of the Xinjiang Production and Construction Corps, and Chen Mingguo, Director of the Xinjiang Public Security Bureau under the Global Magnitsky sanctions program," read an announcement from U.S. Secretary of State Antony Blinken on Monday. "We are doing so in response to serious human rights abuse against members of ethnic and religious minority groups in Xinjiang."
Former Secretary of State Mike Pompeo formally declared China's actions targeting Uyghur communities, and other mostly Muslim groups, a genocide just before the end of Donald Trump's presidential term in January. Canada's House of Commons voted unanimously one month later to label Beijing's history of repressive policies, exacted as part of an effort to dilute religious and cultural practices among Muslim minorities and coerce loyalty to the PRC, with the same designation. Conflict between authorities in mainland Chinese and Xinjiang has persisted for decades, although it gained international awareness more recently as reports of forced labor practices and mass detainment became increasingly prominent.
Researchers estimated that at least 1 million Uyghur people were arbitrarily detained in internment camps, which China officially called "re-education" facilities, during the years preceding the first quarter of 2020. Some details about the extensive internment program are unclear. However, reports indicate that detainees were held for various periods ranging from weeks to years, and underwent both political and ideological indoctrination in addition to violence from guards. While China claimed to have released detainees from camps at the end of 2019, concerns about ongoing forced labor practices and the locations of numerous missing people remained.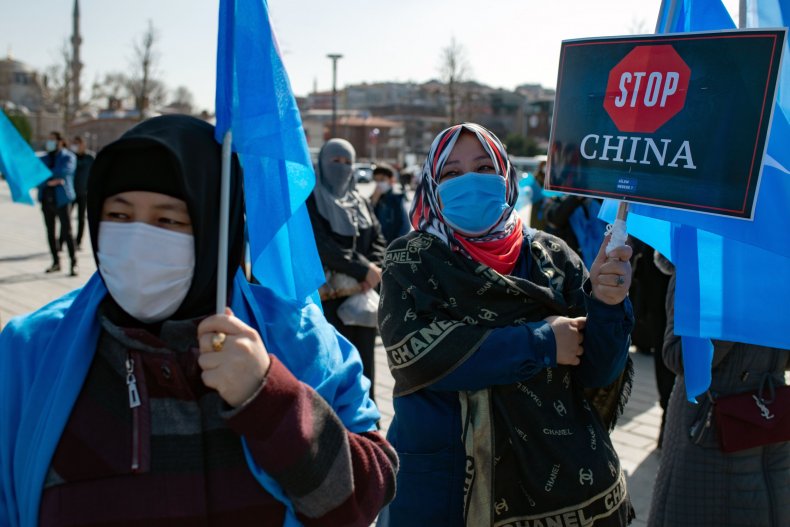 The State Department's Monday announcement acknowledged "appalling abuses" and serious human rights violations impacting communities in Xinjiang, and repeated prior calls for an end to the Chinese government's repression of Uyghur people and other minority groups. It urged the release of all detainees outright.
"Amid growing international condemnation, the PRC continues to commit genocide and crimes against humanity in Xinjiang," it stated, noting that its move to impose sanctions comes "in solidarity with our partners in the United Kingdom, Canada, and the European Union."
"As part of their actions today, our partners also sanctioned human rights abusers I connection with the atrocities occurring in Xinjiang and other countries," the announcement continued. "These actions demonstrate our ongoing commitment to working multilaterally to advance respect for human rights and shining a light on those in the PRC government and CCP responsible for these atrocities."
Newsweek reached out to the State Department for further comment but did not hear back in time for publication.
Update: This story was updated at 1:45 p.m. ET with additional details and background information.