American diplomats and government workers have criticized the way President Joe Biden's administration is responding to "Havana Syndrome," stating that those who suffer from the illness are not getting the care they need.
In a letter written to Deputy Secretary of State Brian McKeon, 21 government workers and their spouses claimed the agency has denied access to proper medical care, rejected scientific evidence about treatment needs and invalidated sufferers' experiences.
The group said they're still waiting to meet with senior officials, and called it "discouraging" that so far leadership has refused to "hear directly from its injured personnel."
The letter, dated May 25, was reported by NBC News on Wednesday.
"After four years of challenges, we were hopeful that the new administration would welcome a partnership with us to ensure those affected receive the care and treatment they need and ensure appropriate care for the new cases," the workers wrote. "Unfortunately, our experience thus far has fallen short of our renewed expectations."
The U.S. has been investigating incidents of Havana Syndrome, a mysterious illness first reported by people at the U.S. Embassy in Havana in late 2016. Victims have experienced hearing loss, loss of balance, vertigo, headaches and other neurological symptoms.
A study from the National Academies of Sciences found that for some patients, symptoms began with the "sudden onset of a loud noise" accompanied by pain in the ears.
"Other personnel attached to the U.S. Consulate in Guangzhou, China, reported similar symptoms and signs to varying degrees, beginning in the following year. As of June 2020, many of these personnel continue to suffer from these and/or other health problems," the study said.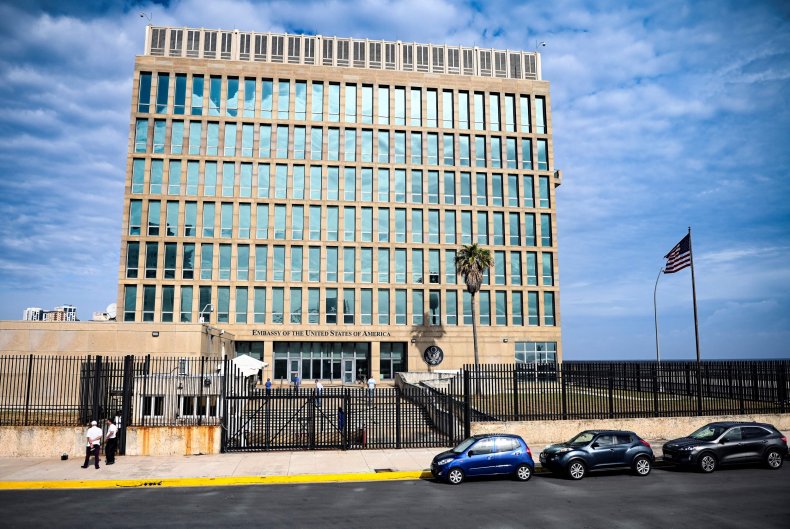 In addition to their letter to the Biden administration, the group of staffers also listed 11 recommendations the government could adopt to better ensure safety and medical care for sufferers of the syndrome.
The recommendations include ensuring "harmonized care," an accountability review board, training and pre-departure preparation for new officers, long-term monitoring of cohorts, among other measures.
"We ask that leadership within the Department honor President Biden's commitment to elevate U.S. diplomacy and stand by the women and men advancing our foreign policy by prioritizing health, safety and security of our officers," the letter read.
A State Department spokesperson told Newsweek that leadership was "aware of the letter and looks forward to discussing its contents with all relevant parties."
"We have no higher priority than the safety and security of U.S. personnel, their families, and other U.S. citizens," the spokesperson added. "The U.S. government is working to determine what happened to our staff and their families and to ensure the well-being and health of our officials going forward. That investigation is ongoing and is a high priority."