Biden Admin Pulls Back Attempt to Block Loan Forgiveness for Epileptic Man
The Biden administration is withdrawing its appeal to block an epileptic student from receiving nearly $100,000 of student loan relief—a reversal of last week's decision.
"We're working hard to deliver relief to student loan borrowers & have reached 675,000 so far. We will withdraw the appeal in the Wolfson bankruptcy case & review how we handle future claims," Under Secretary of Education James Kvaal announced in a Friday statement.
A week ago, the Justice Department filed an appeal on behalf of Education Secretary Miguel Cardona in the case Wolfson v. DeVos.
Ryan Wolfson won his case in Delaware court last month, eliminating almost $100,000 of student debt through bankruptcy.
The 35-year-old said that he struggled to find full-time employment after graduating college in 2010 and that when he finally did nine years later, he had a seizure while working for a ride-hailing service and totaled his car.
Judge Laurie Selber Silverstein concluded that expecting Wolfson to pay that much in debt "would impose an undue hardship on him" and that refusing to forgive his loans "will do little to protect the integrity of the student loan system."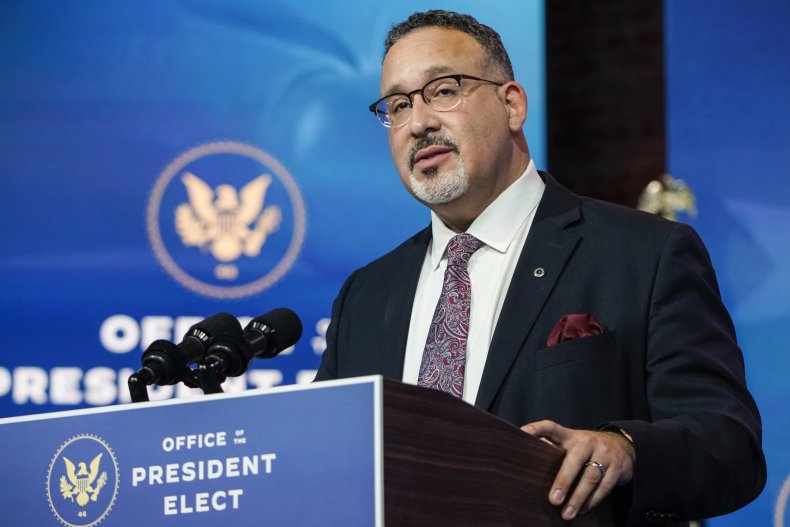 "The evidence shows that, despite considerable effort, Wolfson has been chronically un- or underemployed since graduating from college; that his sporadic full-time employment has consisted of low-paying gig work or jobs with little prospect of advancement; and that he has avoided living in abject poverty only through significant financial support from his father," Silverstein wrote in her opinion.
"The record further shows that Wolfson's career prospects are unlikely to materially improve over time, and thus, his inability to pay his student loan debt will persist," she added.
Cardona's appeal would have potentially blocked Wolfson from the loan forgiveness and forced him to keep the debt he would be unable to pay off.
"While we continue to deliver immediate relief for borrowers struggling with debt we are also making permanent changes that reduce indebtedness and make college more affordable," an Education Department spokesperson told Insider. "This January 28 notice of appeal will soon be withdrawn."
"The Department of Education has indicated publicly that it is reviewing current bankruptcy policies, a process which remains ongoing. While the student loan payment pause remains in effect, any borrower in an adversary bankruptcy proceeding can request and receive a stay on their proceedings," they added.
The decision to back down on the appeal was celebrated by student loan forgiveness advocates, who were disappointed with the administration's choices.
Dan Zibel, the vice president and chief counsel at Student Defense who previously said the department should have welcomed the decision, tweeted that his group "looks forward" to working with the administration to review their legal position on such cases.
"Very welcome news," Zibel wrote.
Update 2/4/22, 12:30 p.m. ET: This article was updated with a comment from Dan Zibel, the vice president and chief counsel at Student Defense.