Biden Admin Says Debt Deal 'Step Forward,' McConnell 'Playing Politics' With Economy
The White House said Thursday that the short-term deal to increase the debt limit is a "positive step forward" as the nation faces default.
"It gives us some breathing room from the catastrophic default we were approaching because of Senator [Mitch] McConnell's decision to play politics with our economy," spokesperson Karine Jean-Pierre told reporters aboard Air Force One.
But the administration is still calling for a permanent solution to the issue, warning that another "possibly devastating showdown" awaits lawmakers if Mitch McConnell and Senate Republicans continue to obstruct.
"We want to remove this cloud from over our economy as soon as possible because each day we draw closer risks and accidental default we draw closer risks and accidental default," Jean-Pierre said, adding, "That's why we've been pushing for a simple up and down vote and we will continue to do so."
After weeks of debate, a deal was announced on Capitol Hill Thursday to increase the debt limit through December. Senate Majority Leader Chuck Schumer said it's the chamber's hope to get the measure done "as soon as today."
McConnell said that lawmakers from both sides of the aisle negotiated "through the night in good faith" to reach the short-term solution.
"The Senate is moving toward the plan laid out yesterday to spare the American people a manufactured crisis," the Kentucky Republican said.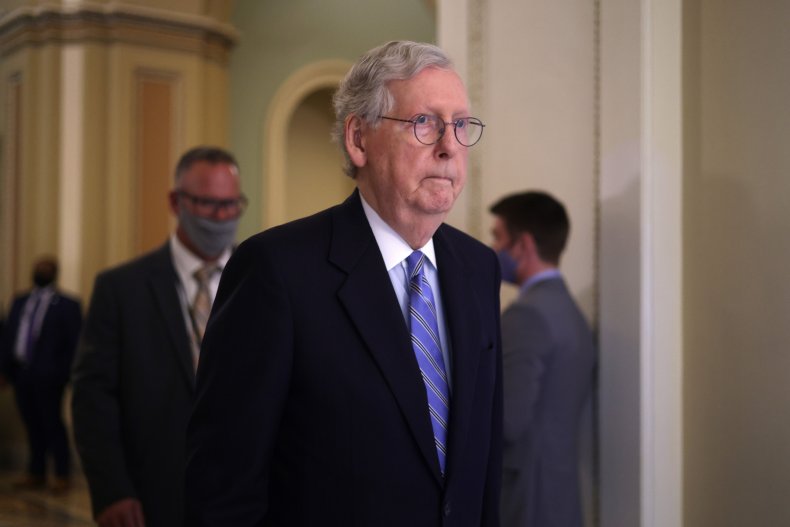 An October 18 deadline is looming for Congress to address the debt ceiling before the nation enters its first-ever default. Treasury Secretary Janet Yellen has warned of "catastrophic" consequences of default, including higher interest rates and recession.
Republicans have repeatedly stated that Democrats must raise the debt limit on their own, warning that none of their members will vote to advance legislation. McConnell previously urged his liberal colleagues to use reconciliation to bypass the Senate's 60-vote filibuster.
But the White House and Democrats have said the reconciliation process is too long and provides too much risk. Instead, some Democrats called for changes to the filibuster to address the issue.
Lawmakers will have to confront the matter again this winter if the deal to extend the debt ceiling until December is ultimately successful.
"We're talking about our pay for the military service members, we're talking about Social Security, we're talking about Medicare benefits for seniors. That is what's at risk," Jean-Pierre told reporters Thursday. "Budget reconciliation is a riskier route, a riskier path that is not necessary. Republicans and Mitch McConnell needs to get out the way so we can do what's what needs to be done for the American public."