Biden Admin Should Expand Its Health Care Vaccine Requirement | Opinion
The Biden administration's announcement that nursing homes receiving federal Medicare and Medicaid dollars will be required to vaccinate their staff is a major advance for patient safety. But it would be a mistake to stop there. To protect health care workers and ensure that the system has the staffing capacity for all patients who need care—whether for COVID-19 or other conditions—the administration should extend its vaccination requirement to all entities receiving payment from Medicare and Medicaid.
The nursing home announcement—which came earlier this month from the federal Centers for Medicare and Medicaid Services (CMS)—closely followed decisive action by state leaders to ensure health care workers are vaccinated. This is not a partisan policy. Gov. Charlie Baker (R-Mass.) is requiring vaccination for staff in long-term care facilities, Gov. Larry Hogan (R-Md.) has a vaccinate-or-test requirement for hospitals and nursing homes and Gov. Gavin Newsom (D-Calif.) announced workers across all health care settings must be vaccinated or face regular testing. More recently, Gov. Kate Brown (D-Ore.) said she is requiring all health care workers to get fully vaccinated without a testing-only opt out.
My colleagues at the Center for American Progress and I previously recommended that employers in health care, as well as in schools, child care, emergency services and other essential functions, mandate worker vaccination. Many have done so. Notably, the nation's two largest public school districts—Los Angeles Unified and New York City—are requiring that staff be vaccinated as a condition of employment. When workers in high-transmission settings remain unvaccinated, their co-workers and the public are at risk. In health care settings, such unnecessary risk should not be tolerated.
We have called for swift and robust federal action to ensure vaccination of health care workers. Ample evidence shows that vaccines dramatically reduce the chance of COVID infection, severe illness and death, and that those who are unvaccinated are far more likely to contract and transmit the virus. The Biden administration should make staff vaccination a condition for all organizations participating in Medicare and Medicaid.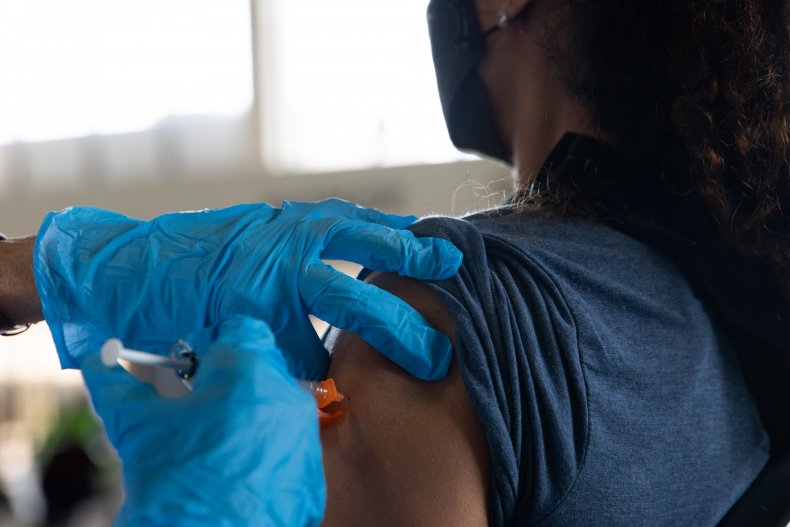 Federal statute provides the government with the authority to adopt conditions of participation in Medicare and Medicaid that are "necessary in the interest of the health and safety of the individuals who are furnished services in hospitals" and other health care providers. With full FDA approval for the Pfizer-BioNTech vaccine, two additional vaccines authorized and ample supply of all three, there is no reason for health care workers to jeopardize patient health by remaining unvaccinated.
Requiring vaccination for health care staff is vital for patient safety and, as hospitalizations mount and ICU beds fill up, for ensuring that understaffed hospitals prevent the loss of workers to quarantine, illness or death. More than 3,600 U.S. health care workers died from COVID-19 in the first 12 months of the pandemic. The very nature of the job places health care workers at risk. They are more likely to be exposed to COVID in communities with high transmission—where they are most needed to staff overflowing wards and freshly erected field hospitals.
Beyond patient and worker safety, broad-based vaccination requirements across health care entities make economic sense. While some companies, like CVS Health or Kaiser Permanente, are choosing to require vaccination on their own, other employers may hesitate to do so out of fear of losing staff, particularly where workers are in short supply and the vaccination rate is low. One nursing home industry executive called the narrow application of the CMS vaccination requirement "a disastrous workforce challenge." A federal vaccination requirement that applies to facilities throughout the health care industry would level the playing field.
While some workers may follow through on threats to quit instead of getting vaccinated, a requirement that applies to all Medicare and Medicaid providers would change the incentives for unvaccinated workers while reducing the chances that their coworkers fall ill and miss work. Federal policy could provide much-needed cover for employers who desire to do the right thing for public health but have not yet instituted a mandate.
With more than 140,000 new cases per day and a shortage of hospital beds in many regions, the United States is once again in crisis, even though vaccines have made severe illness from COVID-19 largely preventable. The situation demands urgent action by the Biden administration. Our health care workforce must be vaccinated to the fullest extent possible, in order to stabilize the distressed health care system for patients whose lives depend on it.
Emily Gee is a senior fellow and the senior economist for Health Policy at the Center for American Progress.
The views expressed in this article are the writer's own.