Biden Administration Asks Pentagon to House Migrants at Army Bases as Shelters Fill Up
The U.S. Department of Defense received a request from President Joe Biden's administration on Tuesday to temporarily house unaccompanied migrant children at two Army bases in Texas, according to department spokesman John Kirby.
Kirby offered the information to reporters during a Tuesday news conference in response to a query about updates regarding the migrant surge along the U.S.-Mexico border. Kirby said the Defense Department "just" received a request from the Department of Health and Human Services (HHS) and didn't have many details to offer, but he did say the HHS identified two specific bases—Fort Bliss, which is headquartered in El Paso, and Joint Base San Antonio—at which it wanted permission for temporary migrant housing.
"The department has received a request for assistance from the Department of Health and Human Services to temporarily house unaccompanied migrant children. They've asked specifically for use of Joint Base San Antonio, Lackland, Texas, and Fort Bliss, Texas," Kirby said.
Kirby said he had not yet seen the request and was thus unsure how many unaccompanied migrant children the HHS intended to temporarily house at each base. The length of time the HHS intended to house those unaccompanied migrant children also was not immediately clear.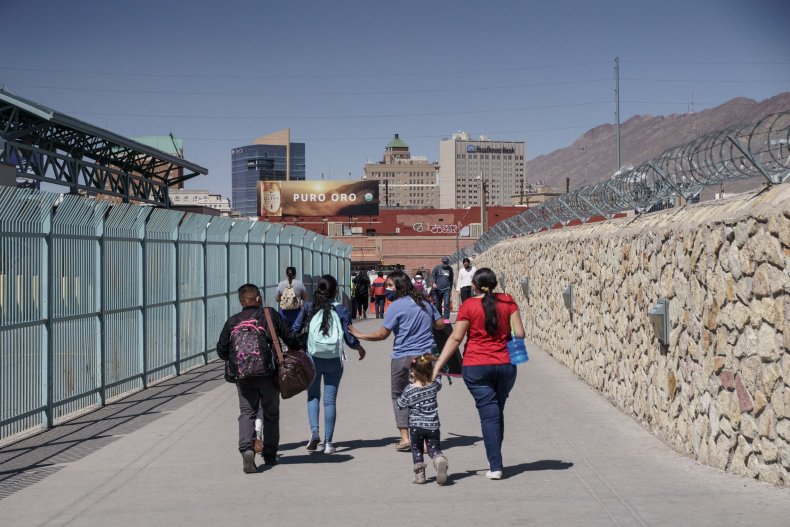 "As I understand it, they have certainly looked at both facilities, and I'd let them speak to what specifically they're looking for, in terms of numbers," he added.
Kirby said the Defense Department would evaluate the request and provide updates along the way.
The latest surge in migrants at the U.S.-Mexico border began following Biden's inauguration. While former President Donald Trump enacted border control policies that were unwelcoming to migrants hoping to cross into the U.S., Biden struck a vastly different tone during his presidential campaign and vowed to end Trump's "Remain in Mexico" policy, which he did shortly after taking control of the White House.
Biden's reversal of the Trump-era policy resulted in a surge of migrants hoping to cross into the U.S. Though the leaders of some border towns have called upon the administration to re-evaluate its strategies for releasing migrants after processing, Department of Homeland Security Secretary Alejandro Mayorkas has avoided calling the situation at the border a "crisis" and instead said this month that department officials are working "around the clock" to "ensure that we do not have a crisis at the border."
While Mayorkas has criticized the Trump administration for putting policies in place that triggered the surge once Biden took office, Trump issued criticisms of his own in a statement released this week in which he targeted the Biden administration's handling of the current surge and called for the completion of the border wall construction that began during his term.
Newsweek reached out to the HHS for comment but did not receive a response in time for publication.