The Biden Administration Is To Blame for the Del Rio Immigration Crisis | Opinion
The following is a lightly edited transcript of remarks made by Andrew Arthur during a Newsweek podcast debate on the Del Rio, Texas immigration crisis. You can listen to the podcast here:
I was down at Del Rio about five weeks ago and, at the time that I was there, one of the things that really struck me was the fact that there were no Border Patrol agents out on the street—or even on the border. What security was being provided down there was being provided by the Texas Department of Public Safety and, in particular, Texas state troopers.
One of the big reasons that we're seeing large numbers of people cross at Del Rio is because much of the border is controlled by cartels over on the Mexican side. But that's not so true in Del Rio. Those cartels along the border generally charge a tax notice for individuals to cross over, but Jalisco New Generation Cartel, CJNG, that's on the Mexican side of the border (near Del Rio) and doesn't actually charge that tax. So the reason that we're seeing so many people coming over in Del Rio is because it's a good place to cross. The reason that we're seeing so many people cross the border illegally—1.475 million this year—is because the Biden administration reversed many Trump administration policies that had discouraged people from entering illegally. So consequently, illegal entry is now a lot more attractive to foreign nationals thinking about coming to the United States.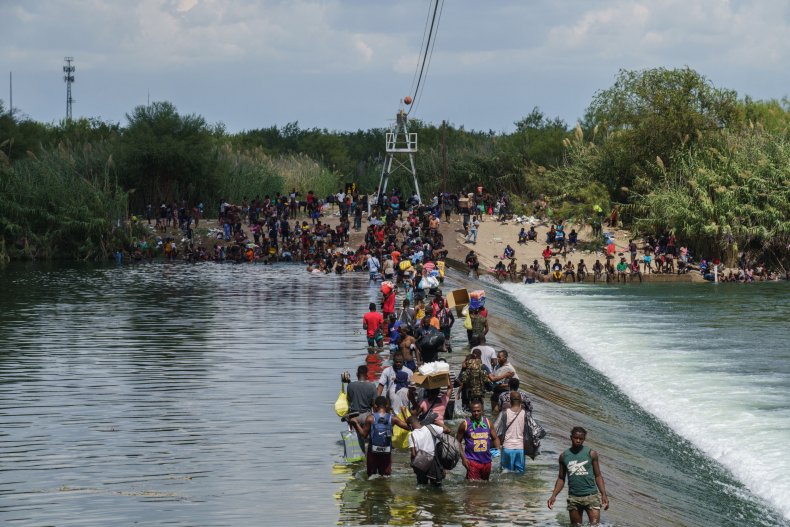 It's important to go back to one of the statements that the professor made: Haiti is in dire circumstances right now. Haiti's been in dire circumstances for decades. The earthquake a few years back definitely made it worse. The political situation there has been rough. And one of the things that I did when I was associate general counsel at the INS was, I was responsible for removing some of the Haitian coup plotters. The United States government had actually brought to the United States individuals who had attempted to overthrow Jean-Bertrand Aristide, who was the president of Haiti. But the population of people that we're seeing now are not primarily Haitians who are coming from Haiti. One of the things that we saw in Central America and South America actually was, between 2014 to 2016, large numbers of Haitians were brought into Brazil in order to help that country prepare for the World Cup and the Olympics.
So there was a huge population of Haitians who were living in Brazil. The Brazilians attempted, when they no longer needed them, to expel them from Brazil and about a 100,000 to 150,000 of them went to Chile and were living in Chile. I actually have first-hand experience of this because when I was in Del Rio, there were large piles of trash that were sitting along the border from where the migrants had crossed. Interestingly, included in those trash piles were large numbers of government documents that had been issued to Haitians. So, there is that, anecdotally, and in fact, USA Today just reported on this—about the large number of Haitians who were living in Santiago, Chilet. I certainly experienced it.
My colleague, Todd Bensman, who's been down there—he's interviewed the migrants and experienced it. And one of the things that I found most surprising was, as I went along the shore of the Rio Grande—I can speak a little bit of French and Creole, but I was able to communicate with the migrants in Spanish, because that's a language that they have been speaking while they've been living in South America.
Andrew Arthur is a resident fellow at the Center for Immigration Studies.
The views expressed in this article are the writer's own.