Biden Administration Scrambles to Ease Crowding at Border as Migrant Children Surge Continues
The Biden administration plans to lease the Kay Bailey Hutchison Convention Center in downtown Dallas to house up to 3,000 immigrant teenagers, the Associated Press reported, in an effort to relieve pressure at the southern border caused by a wave of unaccompanied children.
The Center will house children held in custody by FEMA who are awaiting processing into the U.S.
The Trump administration cut funding for the Department of Health and Human Services (HHS) Refugee and Entrant Assistance program by 31%. The Office of Refugee Resettlement (ORR), which is part of that program, administers the Unaccompanied Children (UC) program, which has direct responsibility for the migrant teens. Customs and Border Protection defines an unaccompanied child as any individual under the age of 18 who arrives without their biological parent or legal guardian at the time of encounter.
The Department of Health and Human Services (HHS) is focusing on ramping up its shelters to respond to this influx.
"The U.S. Department of Health and Human Services' (HHS) aggressively works with its interagency partners to ensure that unaccompanied migrant children (UC) are safe and unified with family members or other suitable sponsors as quickly and safely as possible," HHS said in a statement sent to reporters. "This approach will help decrease overcrowding at CBP facilities and ensure children are moved into ORR shelters, where children receive educational, medical, mental health, and recreational services until they can be unified with families or sponsors without undue delay."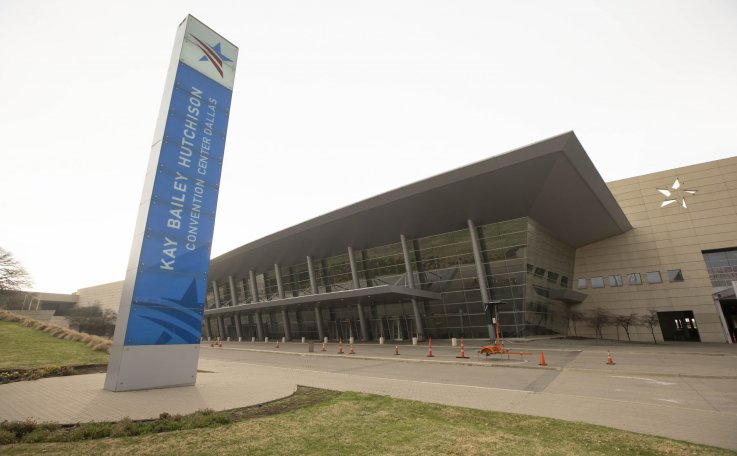 The Kay Bailey Hutchison Convention Center stands on March 16, 2021 in Dallas, Texas. The U.S. government plans to transfer up to 3,000 immigrant teenagers to the Center. The number of migrant children at the border has soared and strained the immigration system. (Photo by Ron Jenkins/Getty Images)
During the month of February, border crossings by unaccompanied children increased by 61%. Along with general seasonal migration shifts, the surge comes in part due to perceptions by human smugglers that the new administration will be friendlier to those crossing.
This development has caused detention centers operated by Customs and Border Protection to become overcrowded, forcing some children to stay beyond the three-day legal processing limit.
"It is very dangerous to hold children in border patrol detention centers," Lee Gelernt, deputy director of the ACLU's Immigrants' Rights Project, told Newsweek. "Border Patrol facilities are not set up to handle unaccompanied children and to provide the children with what they need, psychologically or emotionally."
Children kept in detention centers are at risk for clinical depression, PTSD, and anxiety disorders, especially when kept in such centers for an extended period of time, a report published in the Journal of Social Science & Medicine found.
Gelernt urged the Biden administration to continue using FEMA to address the problem. He applauded the administration for reversing the Trump order to send children back, but says the response to this problem must be swift and adequately funded.
"The solution is to build up the infrastructure that the Trump administration dismantled," he told Newsweek, "so that we have facilities and asylum processing that can handle the numbers. There are enough federal resources to do that quickly."
To ensure migrant children are quickly transferred from Border Patrol facilities, HHS said it will continue to work to expand the capacity of its facilities. It will do this by utilizing Influx Care Facilities as temporary centers and establishing Emergency Intake Sites aimed to decrease crowding in CBP facilities.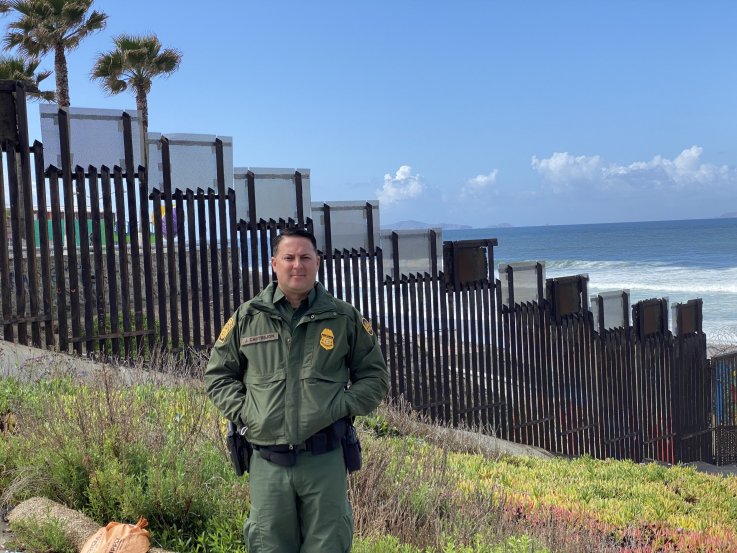 U.S. Border Patrol Public Information Officer Justin Castrejon shown at the border wall in San Diego, California on Wednesday, March 10. (PHOTO CREDIT: ALEX J. ROUHANDEH)
Still, even with HHS' commitment to these services, the first point of contact for child migrant entries remains Customs and Border Protection. More than 4,000 children remain in CBP custody. For officers on the ground, the key to responding to the rising number of crossings lies in the ability to adapt.
"You learn what it takes to care for this vulnerable group...the fluid motion of Border Patrol agents adapting to their surroundings and adapting to someone they encounter with compassion," Justin Castrejon, a public affairs officer with the San Diego sector, told Newsweek. "We're hoping that we can provide immediate medical care if they require it as well as simple care such as providing food or water or a blanket."