The Biden Administration is Sending Title IX to the Ash Heap of History | Opinion
A biologically male athlete at the University of Pennsylvania is smashing NCAA women's swimming records. Will Thomas from Austin, Texas, competed on the men's team for three years and is now, as a senior, competing as Lia Thomas on the women's team. Penn press releases are boasting of the wins and shamefully displacing the true women's swimming program record holders in their history books. Cases like this, enabled by the NCAA's anti-woman policies, jeopardize the hopes and dreams of female athletes nationwide.
Thomas' teammates are courageously speaking out to expose the hypocrisy and blatant injustice—the first time female athletes on a women's college team showcasing a biological male have risked speaking out against their athletic program. "Pretty much everyone individually has spoken to our coaches about not liking this," one shared during an interview with Outkick. "Our coach just really likes winning. He's like most coaches. I think secretly everyone just knows it's the wrong thing to do."
These and other female athletes around the country are unlikely to find allies in Washington. The Biden administration has accelerated its timeline for legitimizing this injustice via new regulations that redefine "sex" in federal law. This change threatens to undermine decades-old Title IX protections for women. Title IX is the landmark federal law prohibiting sex-based discrimination in education. Passed in 1972, it gave women and girls equal rights and opportunities to compete in their own sports leagues, leading to huge increases in female sports participation. Before Title IX, athletic scholarships for female athletes were virtually non-existent and women's sports constituted only 2 percent of athletic budgets. Within 40 years, female participation in high school sports rose tenfold—from roughly 300,000 in 1972 to 3 million in 2012. At the college level, some 190,000 female athletes were competing in women's sports—six times as many as in 1972.
A half-century later, Joe Biden wants to bury Title IX in the ash heap of history. The Department of Education's Office for Civil Rights is fast-tracking regulations that change the meaning of "sex" in federal law to include "gender identity," allowing any male student to claim identity as a female for the purpose of accessing women-only facilities and programs. In their drive for "inclusion," Biden and liberal Democrats have erased female status and ultimately rejected any meaningful distinction between the sexes.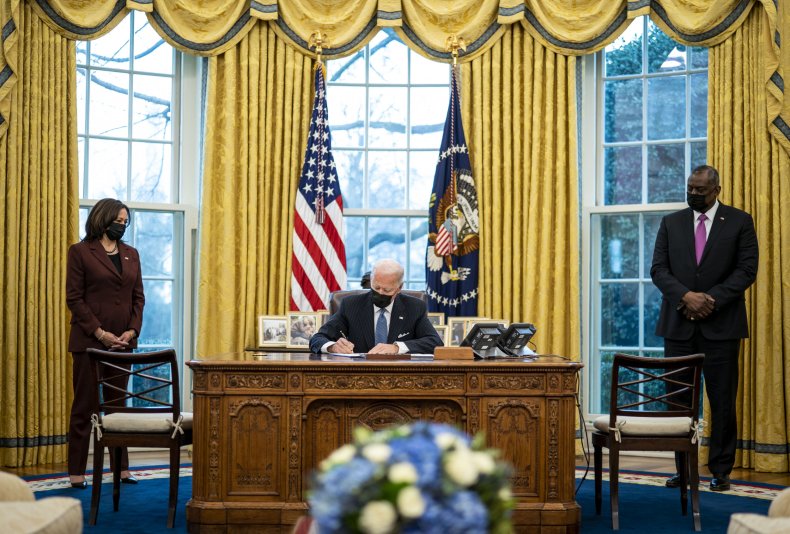 For female athletes, Biden's policy to redefine sex turns the legal purpose and enforcement of Title IX on its head. If sex is equated with "gender identity," the law is no longer based on the immutable genetic reality of being male or female, a fact fundamental to its rationale and to the very existence of women's sports. Under Biden's rules, biologically male athletes like Lia Thomas have the force of federal law on their side to compete in women's sports, simply by self-identifying as women.
Penn's decision compromises the integrity and fairness of the competition against other Ivy League colleges and in invitational tournaments. Its own athletes and collegiate swimmers from across the country now have to face the heartbreak of losing races and being pushed down the podium before they even jump in the pool. These lady swimmers have put their hearts and souls into the sport and devoted themselves to the pursuit of excellence, only to be overshadowed by an innately advantaged biological male who has openly bragged of easily "cruising" to a win.
Team Biden and liberal activists are sitting in the stands cheering this on.
Next year will mark five decades of Title IX prohibiting sex-based discrimination in any school or education program that receives federal funding. The Biden administration's reckless reinterpretation of "sex," individual schools' greed for records and the NCAA's egregious anti-woman policy will continue to aid and abet the erasure of women's opportunities for fair competition.
Doreen Denny is Senior Advisor for Concerned Women for America which is standing on the frontline of the fight to protect female status and the rights of women athletes to fair competition.
The views expressed in this article are the writer's own.