Biden Administration 'Studying Border Wall Construction,' DHS's Alejandro Mayorkas Says
The Biden administration has not requested more funds for border wall construction but is looking to make improvements, Department of Homeland Security (DHS) Secretary Alejandro Mayorkas told federal lawmakers Thursday.
While defending a proposed budget for fiscal year 2022 in front of the House of Representatives' Homeland Security Committee, Mayorkas said the DHS is focused on innovation and technology to improve border security.
"When you take a look at the border as a whole, it is not one size fits all," Mayorkas said. "The border is very dynamic. There are different needs and challenges at different parts of the border."
However, the DHS is "studying border wall construction," he said. "We have already focused on repairing roads and levies. We are looking at particular gaps in the wall and determining what is the best course of conduct to secure our border."
Last week, the DHS said its plans for the border wall follow President Joe Biden's Proclamation 10142 to end the diversion of funds for the wall. According to the DHS, the Trump administration planned to spend over $15 billion on wall construction and diverted over $10 billion of those funds from other sources, including military projects.
The Department of Defense will end all border wall projects using diverted funds and return the remaining, unobligated funds to their original sources, the DHS said.
"Congress provided DHS with some funding for border barrier projects, which the agency is legally required to use consistent with their appropriated purpose," the DHS said in a statement last Friday. "In doing so, DHS will prioritize the remaining border barrier funds to address and remediate urgent life, safety, and environmental issues resulting from the previous administration's border wall construction."
The department will use the remaining funds for "necessary cleanup of construction sites," including drainage, erosion control, site remediation and material disposal, and for "mitigating some environmental damage caused by border wall construction."
Other projects include repairs to the Rio Grande Valley's flood barrier system and remediation of soil erosion in San Diego.
The department said, "For those projects that are not urgently needed to avert immediate physical dangers, DHS will first engage in a comprehensive review that includes detailed environmental impact analysis and remediation and robust and substantive engagement with relevant stakeholders, including border community residents, their elected representatives, tribal communities, and environmental and other interested non-governmental organizations and advocates."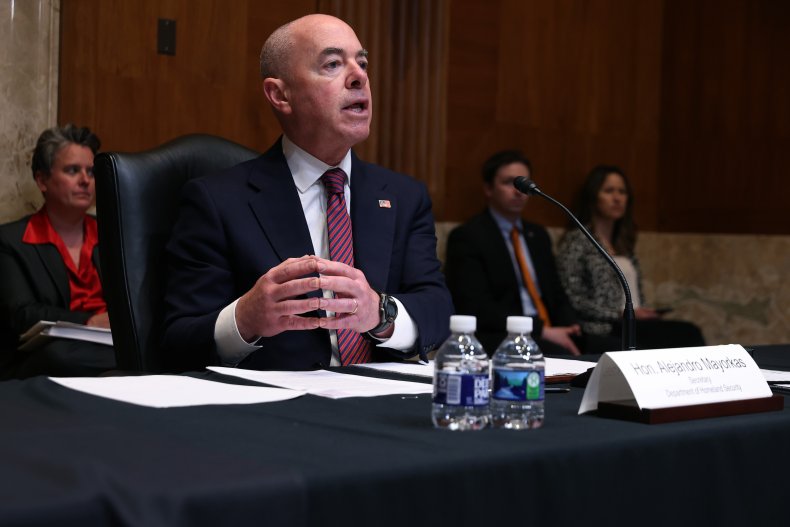 Mayorkas also said that the 2022 budget does not call for the hiring of more U.S. Customs and Border Protection (CBP) agents but that the department will look to fill necessary vacancies.
"With respect to the brave men and women of the United States Border Patrol, we are very focused on recruiting and hiring individuals to fill the vacancies," he said. The CBP plans to invest in port modernizations and technology, he added.
The $52 billion budget also includes requests for resources for the Cybersecurity and Infrastructure Security Agency, which is overseen by the DHS, in its defense against cyberthreats. Also, $122 million is needed to support methods to prevent domestic terrorism "while respecting privacy, civil rights and civil liberties," Mayorkas said.
"Our department has made it a top priority to address domestic terrorism, which is the most lethal and persistent terrorism threat in the United States today," the DHS secretary said.
Newsweek reached out to the DHS and CBP for comment but did not hear back in time for publication.