Biden Administration's 500M Free, At-Home COVID Tests Won't Be Ready Until January
Americans shouldn't expect to be able to receive a free, at-home COVID-19 test from the federal government until January, the White House said Wednesday.
White House Press Secretary Jen Psaki told reporters that the administration is still finalizing a contract for the 500 million tests it purchased as part of President Joe Biden's plan to fight the Omicron variant.
"This means the first delivery from manufacturers will arrive in January," Psaki said, noting that the administration plans to have a complete timeline of when all 500 million kits will be delivered in the weeks following.
"We will make the website—an easy and accessible website—available at that time when people will be able to go on and actually request them," she said.
The White House hasn't said how many tests Americans will be able to order at a time through the website, or whether there will be a limit on how many free tests people can receive.
Biden announced the half-billion tests in his speech Tuesday on the Omicron surge.
"It's not enough," the president said. "We have to do more. We have to do better and we will."
The administration had been criticized for not sending tests to households earlier, as other countries did. For instance, the United Kingdom and South Korea have been providing free testing kits to residents for weeks.
But when previously asked why the White House wasn't considering the same approach, Psaki said: "Should we just send one to every American?"
The White House press secretary also questioned at the time "what happens if every American has one test? How much does that cost, and then what happens after that?"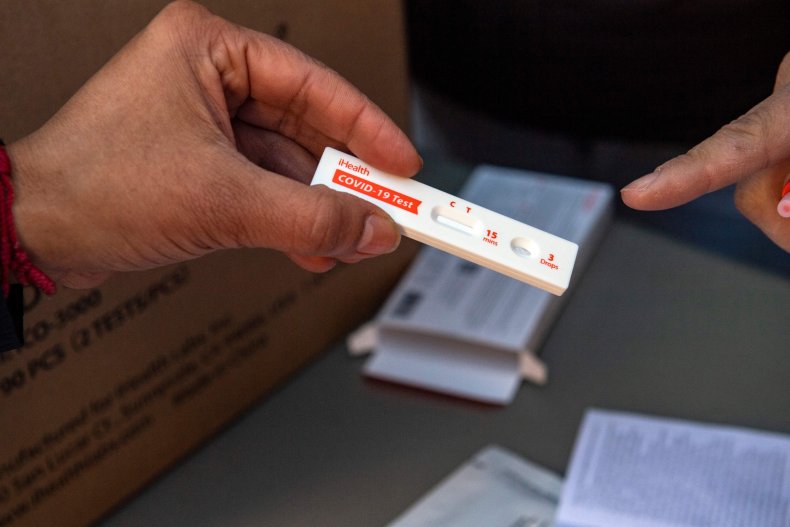 However, the administration reversed course in light of the highly transmissible new variant. Omicron has become the dominant strain of the virus in the United States after first being detected in California on December 2.
In addition to the free at-home tests, Biden announced Tuesday steps to ramp up pop-up testing and vaccination sites across the country as well as expanding hospital capacity and sending troops to overburdened hospitals.
"We all want this to be over, but we're still in it. This is a critical moment," Biden said during his speech.
While the country awaits the federal tests, several areas have been distributing their own at-home tests for free.
New Hampshire began sending kits to residents for free last month, and New Jersey just announced this week that they will do the same. Massachusetts announced Monday that 2 million free rapid test kits will go to 102 cities and towns with the highest percentages of families living in poverty.
Newsweek has contacted the Department of Health and Human Services, which is in the process of finalizing the contract for the at-home tests, for additional comment.