Biden Administration's Admission They're Flagging Content to Facebook Sparks Furor
White House officials are notifying Facebook about posts that allegedly spread COVID-19 misinformation as part of efforts by President Joe Biden's administration to combat what U.S. Surgeon General Vivek Murthy described as "an imminent and insidious threat to our nation's health."
The announcement during a Thursday press briefing at the White House received criticism from conservative media outlets like National Review and The Daily Caller, the latter of which published an article about the press briefing under a banner referring to "Big Brother Biden."
Murthy and White House Press Secretary Jen Psaki discussed their efforts as part of a "new campaign" to fight virus-related misinformation. An advisory recently published by Murthy's office details steps that tech outlets, private citizens, local governments and media outlets can take to battle misinformation when they come across it.
Psaki said part of the Biden administration's new campaign involves asking social media companies to be more active in combatting misinformation and to share the results of their efforts publicly.
"We are in regular touch with these social media platforms, and those engagements typically happen through members of our senior staff, but also members of our COVID-19 team," Psaki said.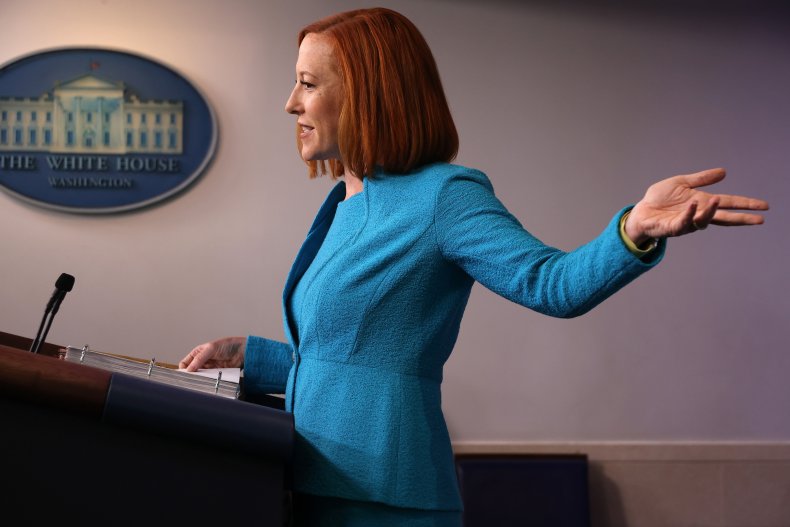 She mentioned Facebook specifically as a platform with which officials have been in frequent contact.
"We've increased disinformation research and tracking within the surgeon general's office," Psaki said. "We're flagging problematic posts for Facebook that spread disinformation. We're working with doctors and medical professionals to connect medical experts who are popular with our audiences with accurate information and boost trusted content—so we are helping get trusted content out there."
Psaki added that an estimated 12 individuals are responsible for about 65 percent of all anti-vaccine misinformation on social media. Though some of those individuals are blocked on some social media platforms, she said they are not blocked on Facebook.
"All of them remain active on Facebook, despite some even being banned on other platforms—including ones that Facebook owns," she said.
In its article about the briefing, National Review wrote that Psaki "escalated the conservative war with Big Tech."
Commenting on a tweet posted by The Daily Caller that shared its article on the briefing, some Twitter users suggested that the Biden administration was "officially admitting" to censorship.
"I thought Facebook was a private company and had no Govt. Interference," one Twitter user wrote. "All depends which party is in office."
"Imagine if Trump did that," another user wrote.
When contacted for comment, a Facebook official told Newsweek the company is taking action to combat COVID-19 misinformation and has thus far removed more than 18 million pieces of misinformation-related content. Some accounts that frequently shared content including misinformation have been banned, the official added.
"We've partnered with government experts, health authorities and researchers to take aggressive action against misinformation about COVID-19 and vaccines to protect public health," a statement Facebook provided Newsweek said. "So far we've removed more than 18 million pieces of COVID misinformation, removed accounts that repeatedly break these rules, and connected more than 2 billion people to reliable information about COVID-19 and COVID vaccines across our apps."
Earlier this year, Facebook told users in an announcement on its Business blog that the company had more than 80 independent fact-checkers to review content in more than 60 languages as part of its effort to combat COVID-19 vaccine misinformation.
But Psaki said Thursday that the efforts Facebook has made to regulate misinformation is not enough.
"Information travels quite quickly on social media platforms," Psaki said. "Sometimes it's not accurate, and Facebook needs to move more quickly to remove harmful, violative posts."
Updated 7/15 at 5:46 p.m. ET: This article has been updated to include a statement from Facebook.