Biden Admits Executive Order on Gun Control 'Not Enough'
President Joe Biden is planning to sign a number of executive orders on gun control on Thursday, but the White House is also expecting Congress to do its part.
Following weeks of deadly shootings across the country, Biden faced increased pressure to address gun violence. The three executive orders aim to curtail ghost guns; implement regulations on stabilizing braces for pistols; and direct the Department of Justice to put forward a model "red flag" law that removes firearms from people who are believed to be a danger to themselves or others.
"These are all really important steps that he can take within his authority as president," Kate Bedingfield, White House communications director, told CNN's New Day. "But, he would be the first to say this is not enough and Congress also has to move forward."
Newsweek reached out to the White House for comment, but did not receive a response in time for publication.
Bedingfield pointed to the background check bills that passed the House in March. One bill would expand background checks and another would close the "Charleston loophole." The gap in federal law allows a firearm sale to proceed without a completed background check if it takes longer than three business days. It garnered its nickname because it's how Dylann Roof, who fatally shot nine people at a Charleston, South Carolina church in 2015, obtained his firearm.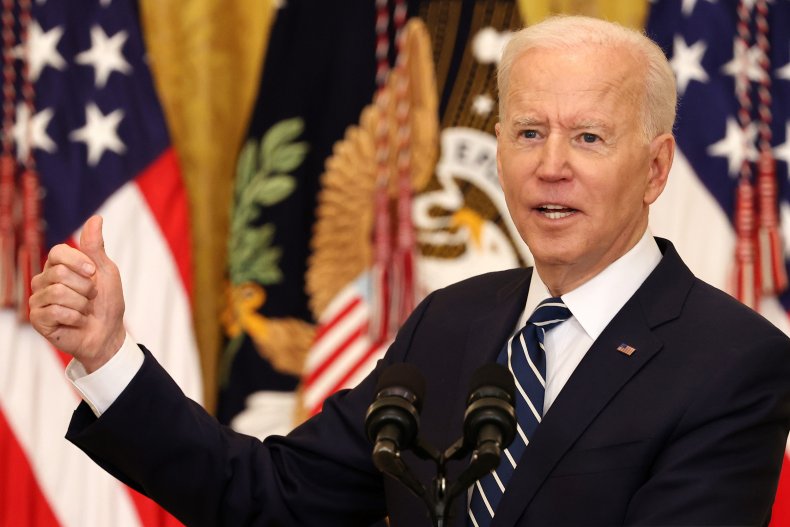 Representative Mike Thompson, who sponsored the background expansion bill, called it a "critical step" in "preventing gun violence and saving lives," ahead of its passage. Nine Republicans voted in favor of Thompson's legislation, while one Democrat, Representative Jared Golden, voted against it.
The other bill passed by a more partisan margin with only two Republicans voting in favor of it and two Democrats voting against it. Both bills have stalled in the Senate, and it's unclear if Democrats can get the Republican support they need to overcome a filibuster and bring the measures to a vote.
While the majority of Americans are dissatisfied with current gun laws, according to recent polling, there's a strong partisan divide. A February Gallup poll found 70 percent of Republicans were satisfied, an increase from 49 percent in 2001, and only 22 percent of Democrats were satisfied.
However, polling from Morning Consult shows there may be room for agreement on background checks. The majority of Republicans and Democrats supported making background checks for a gun purchase a universal standard.
One argument against further gun control is that legislation won't prevent tragedies. Bedingfield told New Day the White House wouldn't comment on whether Biden's executive orders would have prevented any of the recent shootings because of the multiple factors at play. But she characterized Biden's executive orders as being able to help prevent shootings moving forward.
"These are sensible regulations that help ensure that some of the most dangerous elements, the most dangerous guns, out there won't be as easy to get and as to use," Bedingfield said.