Former Vice President Joe Biden admitted that he would likely not win the New Hampshire primary at the Democratic debate in New Hampshire on Friday.
Biden earned a surprisingly low fourth-place finish after the results of chaotic Iowa caucus were finally counted. In his opening remarks during Friday's debate, Biden shared his lowered expectations for the next Democratic primary. Moderator George Stephanopoulos asked if Iowa voters had missed anything by favoring Pete Buttigieg and Senator Bernie Sanders.
"Oh, they didn't miss anything, it's the long race," said Biden. "I took a hit in Iowa and I'll probably take a hit here. Traditionally, Bernie won by about 20 points last time, and usually it's the neighboring senators that do well."
Although he conceded that his prospects in the early stages of the Democratic race are unlikely to quickly improve, Biden said that he will persevere to win the nomination, insisting that the first four contests were the true "starting point."
"No matter what, I'm still in this for the same reason," Biden said. "We have to restore the soul of this country, bring back the middle class and make sure we bring people together... it's a simple proposition. It doesn't matter whether it's this one or another, I've always viewed the first four encounters, two primaries and two caucuses, as the starting point."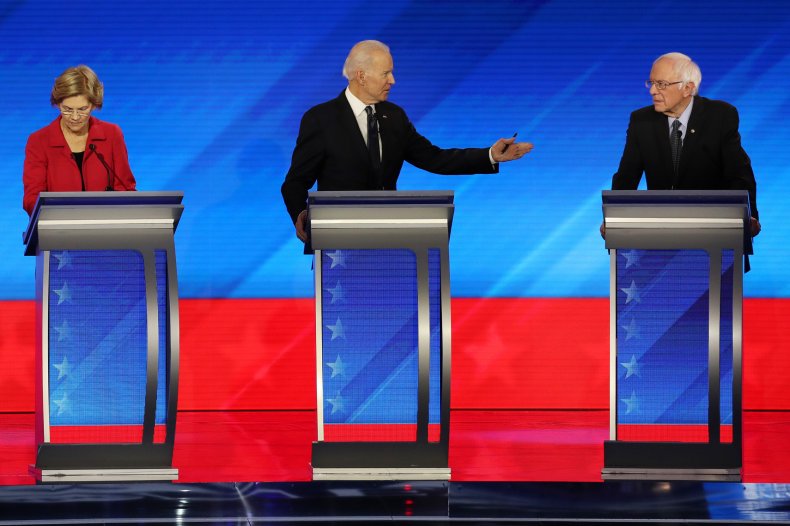 The Biden campaign had earlier questioned the "integrity" of the Iowa results, which were severely delayed after the breakdown of an app used to count and report votes threw the caucus into chaos. Biden himself admitted the contest had been a "gut punch" shortly after the results became apparent, telling supporters on Wednesday that he would not "sugar coat" his poor showing.
Biden's performance in the debate was relatively spirited overall. One moment saw him eliciting a standing ovation from the audience when speaking in support of Lt. Col. Alexander Vindman, the Ukraine security expert who testified in House impeachment hearings and was fired by Trump only hours before the debate.
However, it wasn't an entirely smooth night for Biden. He twice refused fellow candidate Tom Steyer's call to disavow the allegedly racist statements of a South Carolina state senator.
Biden began primary season as a clear favorite, but his polling numbers have quickly declined. Although he appears to have discounted New Hampshire on Tuesday, it will be followed closely by the Nevada caucus on February 22.
The former vice president is thought to face better odds in South Carolina, which holds its primary on February 29. As of debate night, most polls showed Biden with a double-digit lead in the state, although they were largely conducted before the Iowa results were known.