Democratic presidential candidate and former Vice President Joe Biden on Monday admitted his vote for the Iraq War "was a mistake" and said he "wanted to prevent a war."
In an interview on MSNBC's The Last Word, conducted Monday morning in Grand Rapids, Michigan, host Lawrence O'Donnell told Biden that two soldiers were "killed yesterday in Iraq."
"You say your vote in the Iraq War was based on the president's representations, that this wasn't about going to war, this was about presenting a clear threat to Saddam Hussein," the host said. "Bernie Sanders said 'I saw right through that, I knew what George Bush was up to.'
"When we look back on it can we say Senator Bernie Sanders' judgment on that was better than yours?" O'Donnell asked the former vice president.
Biden asserted that he voted for the Iraq War because he was trying to "prevent a war from happening."
"The threat was to go to war," he explained. "The argument was because Saddam Hussein had weapons of mass destruction, so he said that 'I need to be able to get the security council to agree to send in inspectors to put pressure on Saddam to find out whether he's producing nuclear weapons.' At the time, I said, 'that's your reason, alright, I get it.'"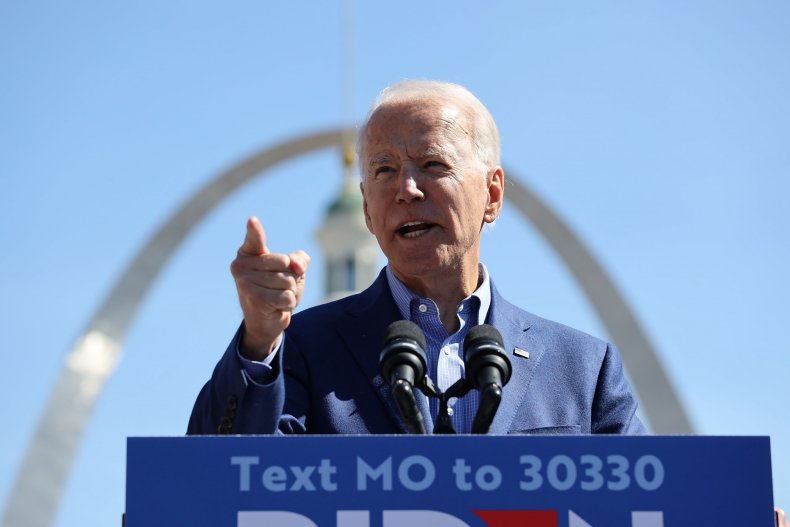 Biden clarified again that the "rationale was not to go to war," but the events that unfolded were not what he had expected.
"I didn't believe [Hussein] had those nuclear weapons. I didn't believe he had weapons of mass destruction," he said. "What happened was we went in, determined that they hyped what in fact was occurring, there was no concrete proof of what he was doing and they still went to war."
Biden went on to admit that it "was a mistake" to take the "word of a president who said he wasn't going to go to war and this is a way to avoid going to war."
"I acknowledged that 15 years ago," he added. "But the idea that Bernie Sanders' judgment on foreign policy is superior to mine... I'm anxious to debate him on that."
Newsweek reached out to Sanders' campaign for comment.
The Iraq War vote has become one of the more contentious points in the Democratic race. Sanders has worn his vote against the war as a badge of honor and he has mentioned it several times during the debates, comparing himself favorably against Biden.