Biden Announces New Russia Sanctions in Response to Invasion
President Joe Biden announced Thursday that the U.S. and its European allies were dramatically ratcheting up economic sanctions against Russia in response to its invasion of Ukraine, which began late Wednesday night with an assault on the capital Kyiv and other major cities.
Biden said the new round of sanctions will target Russia's largest banks, wealthy individuals, and further isolate the country from the global economy. The sanctions were designed to have a "maximum long-term" cost to Russia, Biden said, while limiting the impact to the U.S. and other countries.
"This is a dangerous moment for all of Europe," Biden said, adding that Putin's decision to invade Ukraine represented "a sinister vision for the rest of the world."
Biden spoke from the East Room of the White House, where he has appeared several times in recent weeks to warn Russian President Vladimir Putin against escalating the Ukraine crisis into a bloody conflict that would destabilize Europe and the global economy.
But the threat of sanctions -- and a first round of sanctions announced earlier this week -- did not deter Putin from launching the largest war in Europe in decades.
The attack began late Wednesday night, Eastern time, with an air assault on Kyiv, Kharkiv, and other large cities, sending many residents into hiding in metro stations and other underground bomb shelters as air raid sirens sounded in the capital and elsewhere across the country.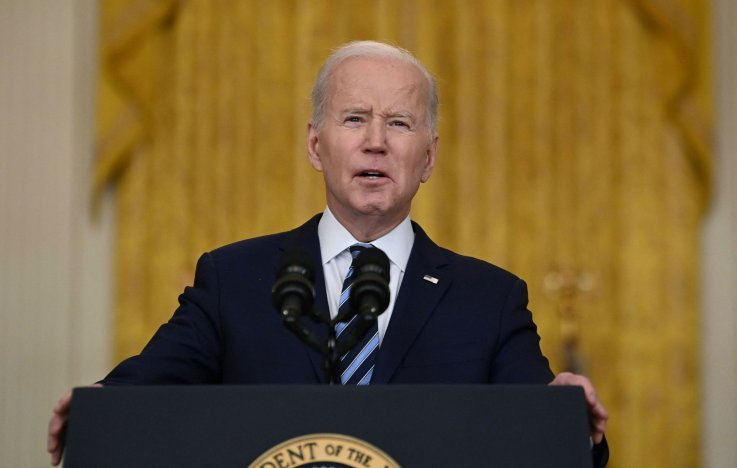 Biden announced "devastating" Western sanctions against Russia on Thursday. After a virtual, closed-door meeting, the G7 democracies said they stand firm against Russia's "threat to the rules-based international order."
AFP via Getty Images/Brendan Smialowski
In the West, observers woke Thursday to shocking images of tanks and other Russian ground forces rolling into Ukraine from positions along the border where Putin had put in place more than 175,000 troops in the weeks leading up to the invasion.
Ukrainian President Volodymr Zelenskiy, who made an impassioned plea to Russia earlier in the week not to launch the attack, denounced the invasion on Twitter.
"This is a declaration of war against the whole of Europe," he said.
Ukrainian forces launched a swift defense Thursday. The Ukrainian Interior Ministry said that several Russian helicopters and planes had been shot down in the first hours of the incursion. But Ukraine is significantly outmanned, and is widely expected to be routed by Russia.
As the fighting intensified, other foreign leaders joined Biden in condemning Russia's actions. French President Emmanuel Macron called on Russia to "immediately end its military operations." German Chancellor Olaf Scholz called Putin "reckless" and said the war was "a dark day for Europe."
It was not immediately clear, however, what effect the new sanctions would have on Putin's decision-making.
It's also unclear what else beyond sanctions Biden and his partners in Europe can do to force Putin to reverse course. This month Biden sent nearly 5,000 U.S. troops to Poland to bolster NATO's presence in Europe, and he said Thursday that in addition to the sanctions the U.S. was taking steps to boost its support for NATO allies in Europe.
But Biden reiterated Thursday that he will not send Americans to fight in Ukraine, a country that Putin has long sought to divide from the West as part of his effort to expand Russia's sphere of influence in Eastern Europe.
"Our forces are not and will not be engaged in a conflict with Russia in Ukraine," he said.
Biden's speech Thursday announcing wider-ranging sanctions came two days after a first round of sanctions did not appear to change Putin's calculus for invasion.
Those sanctions targeted two Russian banks, VB.RF and Promsvyazbank, and five oligarchs with close ties to the Kremlin, including Aleksandr Bortnikov, the director of FSB, Russia's domestic security and counterintelligence agency.
The first tranche of sanctions also moved to cut off Russia's access to Western financing by placing restrictions on Russia's sovereign debt. On Wednesday, Biden announced sanctions against Nord Stream 2, an $11 billion natural gas pipeline connecting Russia to Germany.
Administration officials said the sanctions would be ratcheted up if Putin escalated the conflict, and noted that the initial round of sanctions were already much more severe than the ones that the U.S. and its allies imposed after Russia annexed Ukraine's Crimean Peninsula in 2014.
But the initial sanctions were immediately questioned in the U.S. and Europe, with critics arguing that they would not be enough to deter Putin from launching an invasion.
Putin signaled as much Monday night, before the initial sanctions went into effect. In a long, inflammatory speech, Putin recognized the independence of two breakaway areas in Eastern Ukraine's Donbas region that have been controlled by Russian-backed separatists since 2014.
In recognizing the so-called Donetsk People's Republic and Luhansk People's Republic, Putin laid out his rationale for going to war in Ukraine, saying that it did not have the right to exist as an independent country and claiming that a Russian military intervention was needed to protect the regions from attack by Ukrainian forces.
U.S. officials said the claims were part of a "false flag" operation by Russia to create a pretext for an invasion.
Putin announced the attack in a video that aired Thursday morning in Russia, calling it a "special military action" against Ukraine. He also issued a stark warning to the world, using language that was widely interpreted as a threat that he would deploy nuclear weapons if the West interfered in Russia's affairs.
Biden said Thursday that the U.S. had warned for weeks that Putin might attack, and that events in Ukraine were unfolding largely as predicted.
"This was never about genuine security concerns on [Russia's] part. It was always about naked aggression."