Biden Approval Rating Double-Digits Higher Than Trump's Was in Early 2017: Poll
A new poll shows that President Joe Biden's approval rating is double-digits higher than former President Donald Trump's was at the same point shortly after he took office back in 2017.
The latest survey carried out by Harvard CAPS-Harris Poll shows 60 percent of Americans approve of the job Biden has done in just over a month as president, The Hill reported on Monday. Comparatively, just 48 percent of voters said they approved of the job Trump was doing back in February 2017. That puts Biden's early approval rating 12 points ahead of his Republican predecessor at the same point in his White House tenure.
Not surprisingly, there was a significant partisan divide in the latest poll. But 31 percent of Republican voters said they approved of Biden's leadership thus far. Back in February 2017, 79 percent of Democrats said they disapproved of Trump, while 88 percent of Republicans approved.
Notably, the poll also found a significant decline in the number of Americans who believe the country is headed in the wrong direction now that Biden is in the White House. In January, 63 percent of respondents said that the country was on the wrong track. That number has now declined by double digits to just 47 percent as of late February.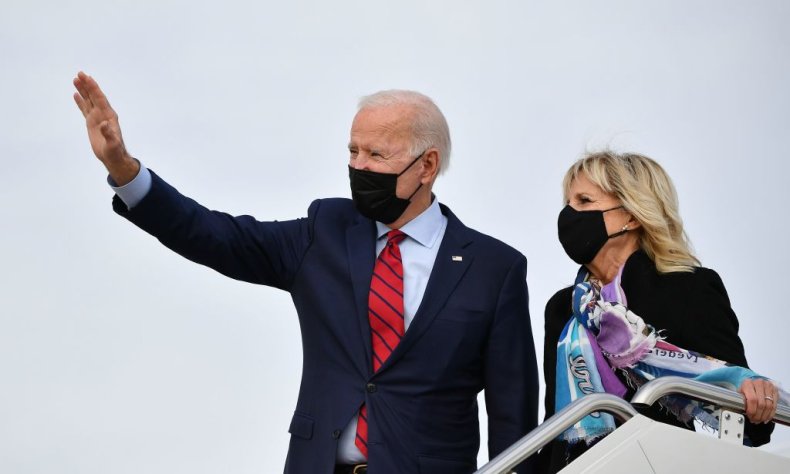 Other recent polls have shown that a majority of voters approve of Biden thus far. In polling conducted by Gallup in February, 56 percent of voters said they approved of the new president. Notably, according to Gallup's polling, Trump never saw his approval rating reach 50 percent. Trump was the first and only president since Gallup started the approval polls back in 1938 to never reach 50 percent.
Republicans have attempted to present Biden's early days in office as disastrous for the country. Trump condemned his predecessor's first month in office during a speech at the Conservative Political Action Conference (CPAC) on Sunday. The former president insisted that Biden has "had the most disastrous first month of any president in modern history."
While Trump and many Republicans may be unhappy with Biden's actions, overall polling suggests that the Democratic president is getting high marks when it comes to his response to the COVID-19 crisis and the economy. Gallup's February polling showed that more than two-thirds (67 percent) of voters approve of Biden's response to the pandemic, while 54 percent approve of his handling of the economy.
Additionally, the $1.9 trillion American Rescue Plan that Biden and Democrats are pushing to pass appears to be widely popular with voters. Although the bill is not supported by Republicans in Congress, more than three-quarters (76 percent) of voters said they support the package, according to recent polling by Morning Consult. Furthermore, 71 percent of independent voters and 60 percent of Republicans said they support the legislation.