New polling suggests that Democrats haven't been pleased with President Joe Biden's performance since July as his approval rating dropped by seven points among the party, according to a new poll from the Associated Press-NORC Center for Public Affairs Research.
In July, 92 percent of Democrats supported the president but as of September 27, the number has dipped to 85 percent as he works through challenges connected to infrastructure and economic legislation as well as immigration and the coronavirus pandemic.
And overall, just 47 percent of Americans approve of how Biden is managing the economy, according to AP. In March, the number was 60 percent but now remains similar to what was reported in August.
The rating drop comes as Democrats quickly work to save a bipartisan infrastructure bill that may not pass because of items in a separate budget package tied to Biden's social policy and climate change that have divided the party.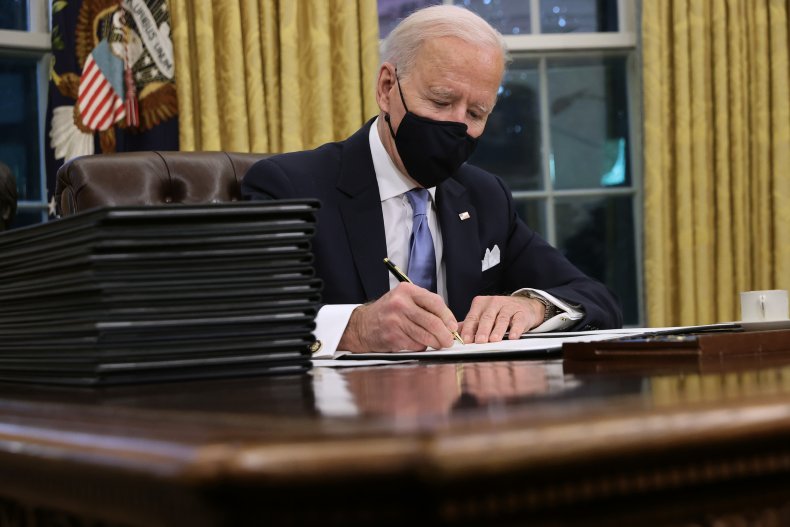 Having already passed in the Senate 69-30, the $1 trillion infrastructure package includes $550 billion in new federal spending to improve roads, bridges, and transit systems as well as expand broadband access and create electric vehicle charging stations. It now awaits a vote in the House of Representatives.
The bipartisan agreement focuses on physical infrastructure but a separate $3.5 trillion proposal known as the Build Back Better Act focused on "human infrastructure" would expand the child tax credit, hearing and dental care, fund paid leave programs and address the climate.
For the vote to pass, Democrats need to win support from moderates Joe Manchin of West Virginia and Kyrsten Sinema of Arizona who previously said the plan is too big.
Yet progressives are adamant that they won't vote for the public works bill without Biden's bigger package guaranteed, AP reported, creating a stalemate.
"We've made some progress," said press secretary Jen Psaki on Friday. "Compromise requires everybody giving a little. That's the stage we're in."
The negotiations remain ongoing as of Friday evening with Biden remaining in Washington.
But the president's approval didn't just drop among his own party.
Among independents, the president's rating decreased 62 percent to 38 percent from July to September and Republican support decreased from 15 percent to 11 percent.
And Biden's overall rating has declined, too.
In July, 59 percent of respondents said they approved of the president but the number decreased to 54 percent in August and now stands at 50 percent, according to AP.
Less than 60 percent of Americans believe the country is heading in the right direction with just 34 percent agreeing with the statement. The number is down about half from the first months of Biden's presidency, according to AP.
"If he had a plan to destroy this country and divide this country, I don't know how you could carry it out any better," said 81-year old Trump supporter Larry Schuth. "We're spending way too much money. We're planning on spending even more. We don't have a southern border."