Biden Approval Rating Plummets Among Under 30 Year Olds Over Afghanistan, Economy: Poll
President Joe Biden's approval rating is dropping amongst the younger generation over his handling of key issues, new polling from Generation Lab/Axios suggested.
A survey of around 800 Americans aged 18 to 29 found that members of every party view the president less favorably since he's taken office, primarily because of his handling of the economy and the withdrawal from Afghanistan.
When asked how their approval of Biden has changed since he took office, 17 percent said it has gone down a lot and 42 percent of respondents said their view has remained the same. Only 6 percent of young adults said their approval has gone up a lot and 11 percent reported it has gone up some.
More specifically, 29 percent of Democrats, 46 percent of Independents and 69 percent of Republicans said their approval of Biden has gone down. Forty-five percent of Democrats, 43 percent of Independents and 26 percent of Republicans said their view stayed the same.
According to the poll, a nearly identical amount of young adults blamed Biden's handling of the economy and his withdrawal of American troops from Afghanistan as the reason their opinion changed. The numbers were 52 percent and 51 percent, respectively.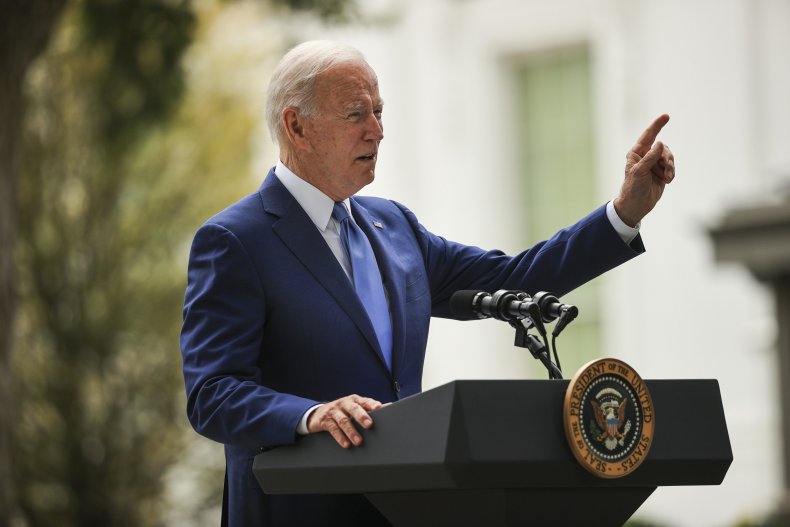 Fewer respondents, around 43 percent, said that the handling of the situation at the border swayed their view. Others cited the handling of the coronavirus pandemic for not enough or too many protection measures, 30 percent and 29 percent, respectively, as their reasoning.
And while Biden's handling of these issues led the majority of young people to view the president less favorably, some did improve their view.
Among Democrats, 26 percent said their approval of Biden has gone up since he took office. Eleven percent of Independents and five percent of Republicans reported better opinions, too.
"Young Americans are extremely supportive of the Biden agenda and this administration's policy priorities as laid out in the Build Back Better agenda," Quentin Wathum-Ocama, the president of Young Democrats of America, told Newsweek. "What we are seeing is growing frustration that Democrats, particularly in the U.S. Senate, have failed to so far deliver on many items that will have a substantial impact on our lives."
"We're looking forward, failure to deliver on these major policy priorities and other critical issues like expanded voting rights may chart a difficult path for us with young Americans in 2022 and beyond," Wathum-Ocama added.
The findings from the Generation Lab/Axios poll reflect the downward trend in Biden's approval ratings nine months into his presidency. The decrease started the day before the final deadline of U.S. troop withdrawal from Afghanistan and continues as the president's economic agenda is debated.
In a Quinnipiac University Poll from October 1 to 4 the president's approval rating fell as low as 38 percent and rose to 48 percent in an Ipsos poll the following week. In that time, other polls have averaged it between 42 and 46 percent.
As of October 11, Biden's overall approval rating is around 44 percent while his disapproval rating is at 49 percent, according to poll tracker FiveThirtyEight, which tracks the president's popularity based on analysis of a range of surveys and its own system of ratings.
Former President Donald Trump's approval rating was 38 percent on October 8, 2017, while his disapproval rating was 56 percent, according to FiveThirtyEight.
Newsweek reached out to the Biden administration but did not receive a response by press time.
Updated (10/11/2021, 9:50 p.m. ET): This article has been updated to include comments from Young Democrats of America.