Biden Approval Rating Same as Trump's Nine Months Into Presidency
President Joe Biden continues to struggle with voters and a recent Quinnipiac poll found his approval rating nine months into his presidency is on par with that of his predecessor, former President Donald Trump.
Biden came into office with strong approval ratings, but has since lost support from voters amid a resurgence of COVID-19 cases and America's withdrawal from Afghanistan. Two Quinnipiac polls taken four years apart found both Trump and Biden had nearly exactly the same support from members of their own parties, but when it comes to the economy, voters felt better about Trump than they do about Biden.
"Battered on trust, doubted on leadership, and challenged on overall competency, President Biden is being hammered on all sides as his approval rating continues its downward slide to a number not seen since the tough scrutiny of the Trump administration," Quinnipiac University Polling Analyst Tim Malloy said in a statement.
Nine months into his presidency, only 39 percent of voters approve of the way Biden is handling the economy, according to a Quinnipiac poll released on Wednesday. Four years earlier, 48 percent of voters surveyed in a Quinnipiac poll approved of how Trump was handling the economy.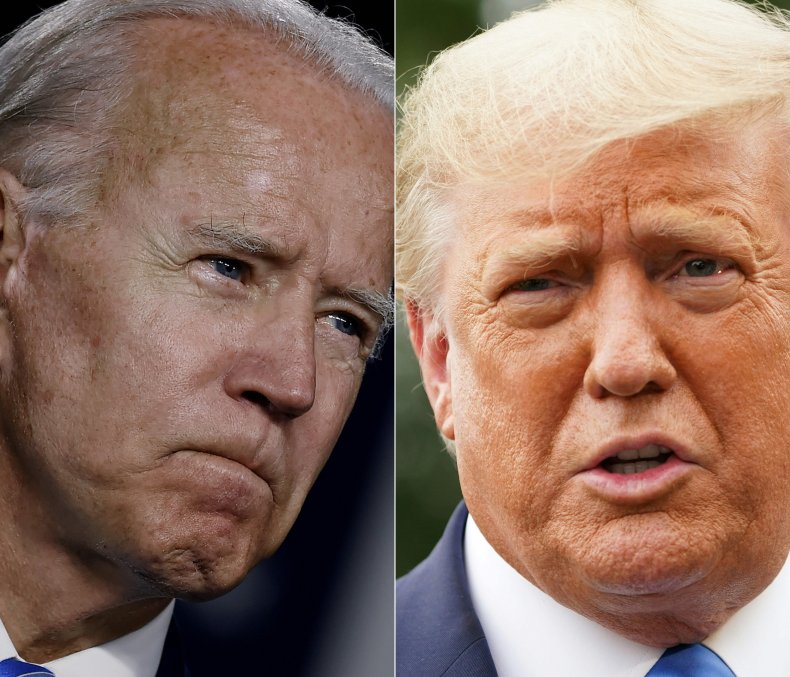 Trump had slightly more support from his own party, at 89 percent of Republicans, compared to Biden's support from 82 percent of Democrats. Independents also backed Trump's handling of the economy in October 2017 by 16 points more than they currently support Biden.
"President Trump may not be fit, but the economy is, voters say. They remain troubled by the president's competence, but see the economy booming along under his stewardship," Malloy said in 2017.
The COVID-19 pandemic shuttered businesses and wreaked havoc on America's economy. Despite the vaccination bringing promising signs of an end to the outbreak, the recovery has been bumpy and jobs reports under Biden haven't held up to expectations. Fears of inflation rising continue to plague the Biden administration and Americans are seeing increased costs for used cars, groceries and gasoline.
Also weighing on Biden's approval rating is America's withdrawal from Afghanistan. After 20 years, the United States left Afghanistan at the end of August, prompting fierce criticism of Biden. While the majority of voters agreed with leaving the country, they were highly critical of the chaotic nature at which it was carried out that fueled the Taliban's rapid rise to power.
The president's held firm in his decision to leave Afghanistan, noting that the outcome wouldn't have been different if troops remained for another year or another five or ten years. It's caused a dip in his approval rating, though, even among members of his own party and Republicans are sure to keep attention on the issue into the midterms.
Quinnipiac's poll found Biden also trails slightly behind Trump in terms of how voters view their handling of foreign policy. In October 2017, 38 percent of people surveyed in the Quinnipiac Poll approved of Trump's handling of foreign policy, including 80 percent of Republicans and 4 percent of Democrats. Four years later, 34 percent approve of Biden's tackling on the topic, including 2 percent of Republicans and 72 percent of Democrats.
Trump also polled higher at this point in his presidency than Biden on the issue of immigration, although the two earned exactly the same approval rating, 37 percent, on their handling of taxes.
At this point in both Biden and Trump's presidencies, 38 percent of voters approved of how the two presidents were handling their job as president, according to the Quinnipiac polls. Slightly more people disapproved of Trump's job, at 56 percent compared to 53 percent.
In the 2017 poll, 1,482 voters were surveyed and the margin of error was plus or minus 3 percentage points and in the 2021 poll 1,326 voters were surveyed and the margin of error was plus or minus 2.7 percentage points.