Biden Attacks Lindsey Graham and President Trump in CNN Interview, Maintains His Health is Excellent
Presidential candidate Joe Biden went on the attack in an interview conducted in South Carolina with CNN's Don Lemon Friday night, taking swipes at Sen. Lindsey Graham, President Donald Trump and potential presidential candidate Michael Bloomberg, who has yet to announce his official campaign for office.
Biden also repeatedly said he was in excellent health and would have no problems getting the job done as president.
Biden expressed disappointment in Senate Judiciary Committee chairman Graham, saying Graham's actions on behalf of the Trump administration would make him "go down in a way that I think he's going to regret his whole life."
"They have him under their thumb right now," Biden continued. "They know he knows that if he comes out against Trump, he's got a real tough road for reelection."
Biden was also "angered" that Graham has requested the release of documents concerning not only Biden himself but Biden's son, Hunter, who worked for the Ukrainian natural gas company, Burisma Holdings.
"[Graham] knows me," Biden said. "He knows my son. He knows there's nothing to this." He went on to say there was "nothing to investigate."
"There's not a scintilla of evidence that I did anything wrong," he added. "Not a shred that I did anything other than my job, and really well."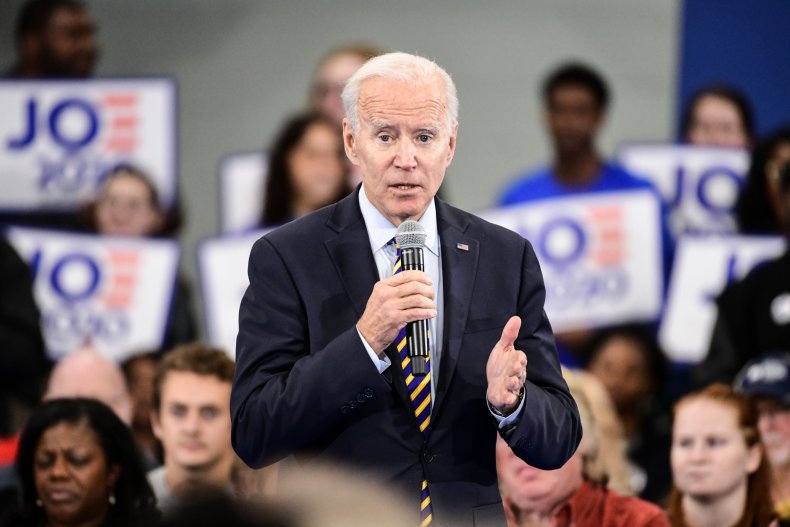 Biden addressed concerns in the media and from donors that he has "lost a step" and is unable to complete the race physically or cognitively. President Donald Trump has repeatedly stated his doubts that Biden is well enough to win the presidential race, referring to him as "Sleepy Joe."
"Mr. President," Biden said, "I can hardly wait. You're a serial liar. You're corrupt. You made a botch of the job and I'm ready."
Biden also took aim at billionaire Mike Bloomberg, who may be entering the presidential race.
"Trump is so bad as a President, and so corrupt as a President, that everybody in America who has ever been involved in politics, especially if they have a billion dollars, thinks they could beat Trump. Maybe they could," Biden said. "And so what do you have to do? I'm the guy sitting on the top of the pyramid. I get it. I'm a big boy. Never complain, never explain."
Biden said that Republicans questioning the patriotism of witnesses during the impeachment hearings angered him, but not as much as Trump's behavior.
"It angers me, especially Trump trying to intimidate witnesses while they're testifying," Biden said. "What kind of man is this? That alone is enough for him to be viewed as a pariah."
Biden also said that while some Democratic candidates may have gone too far to the left, voters have to look at "who has the big and bold plans."
"I promise you," he said, "if I get elected and get passed what I'm talking about, they're going to be writing about it as a fundamental change when it's over."
When asked if Biden considered his age to be a negative factor, he laughed it off.
"Come out with me, man," he said. "Come out and run with me. I'm in great health."