Biden Awards Medal of Honor to 3 Soldiers, 2 of Which Died While Serving in Middle East
President Joe Biden awarded the Medal of Honor on Thursday to three soldiers, two of whom died years ago while serving in the Middle East.
Master Sergeant Earl Plumlee was present at the White House Thursday to receive the nation's highest military award for valor in combat, while the late Sergeant 1st Class Christopher Celiz and Sergeant 1st Class Alwyn Cashe were honored posthumously.
Cashe, 35, who was stationed in Iraq, was the first Black service member to be presented with the Medal of Honor for military actions since Vietnam, the White House said. In October 2005, the Bradley Fighting Vehicle he was commanding was attacked with a roadside bomb and small arms fire.
Despite suffering burns, Cashe returned numerous times to the burning vehicle to retrieve several soldiers stuck in the wreck. He also refused to board the medical evacuation helicopters that began to arrive until all of his fellow wounded soldiers were boarded first.
"Despite the severe second and third degree burns covering the majority of his body, Sergeant First Class Cashe persevered through the pain to encourage his fellow Soldiers and ensure they received needed medical care," the White House said in a press release.
He died from his burns the next month at a hospital in Texas. Three of the soldiers he rescued also perished
Celiz, 32, was an Army Ranger who died in 2018 in Afghanistan. While heading an operation to rid the area of enemy forces in 2018, his team was attacked and he used his body to shield the unit from Taliban fire as a wounded soldier was loaded onto a medical evacuation helicopter.
He also remained behind to shield the helicopter's cockpit as it took off and motioned for the aircraft to continue departing even when he was struck by enemy fire.
"His selfless actions saved the life of the evacuated partnered force member and almost certainly prevented further casualties among other members of his team and the aircrew," the White House said.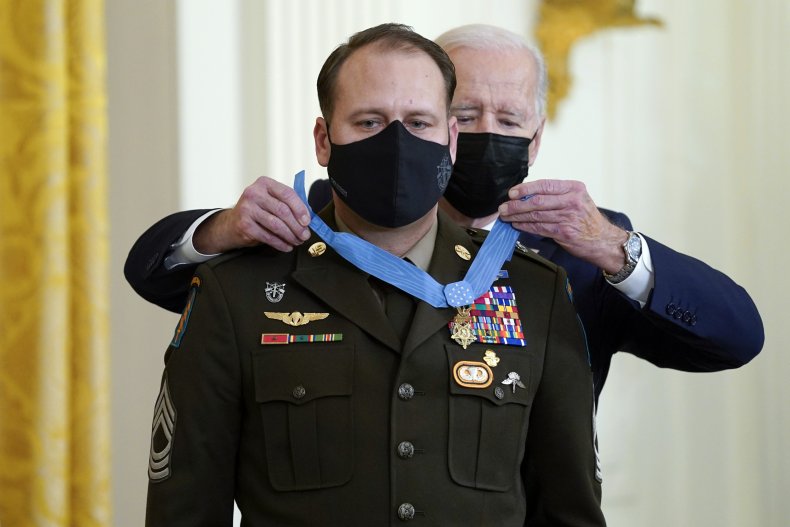 "Our hearts are overflowing with gratitude today as we honor the unparalleled courage, the commitment to duty, and the indispensable, indisputable gallantry," Biden said at the White House ceremony.
Celiz was a South Carolina native and had enlisted in the Army in 2006.
Kate Celiz and Tamara Cashe accepted the medals on behalf of their families.
"As honored as you are, it's gotta be tough to be here today," Biden told Cashe's family.
Plumlee was serving at a base in Afghanistan when it came under attack, with insurgents blowing a 60-foot breach in the perimeter wall.
Ten insurgents wearing Afghan National Army uniforms and suicide vests poured through. Plumlee and five other soldiers drove toward the explosion to head off the attack.
Armed with just a pistol, Plumlee killed two insurgents and engaged several others at close range, despite heavy enemy fire and his own injuries. At one point, Plumlee ran to a wounded soldier, carried him to safety and rendered first aid.
Plumlee is currently serving with the 1st Special Forces Group at Fort Lewis, Washington.