Fifty percent of voters think former Vice President Joe Biden would do a better job of handling the economy as opposed to the 45 percent who support President Donald Trump, according to a new nationwide poll from Quinnipiac University.
More than half of voters disapprove of Trump's handling of the economy, marking his lowest net score on the economy since August of 2017.
In June, Trump had a 52 percent approval rating on the economy, but that number has since dropped to 44 percent.
"Trump's strongest card, the economy, shredded by a killer virus, may have left the president with no go—to issue or trait to stave off defeat," Mallow said. "Not leadership, not empathy, not foreign policy, and certainly not his handling of COVID-19."
The poll also shows Biden with a nationwide 15 point lead over Trump, opening up Biden's biggest lead this year. Since March, Biden's lead typically averages between 8-11 percentage points.
Fifty-two percent of registered voters support Biden in comparison to the 37 percent who back Trump.
"Yes, there's still 16 weeks until Election Day, but this is a very unpleasant real time look at what the future could be for President Trump. There is no upside, no silver lining, no encouraging trend hidden somewhere in this survey for the president," said Quinnipiac University Polling Analyst Tim Malloy.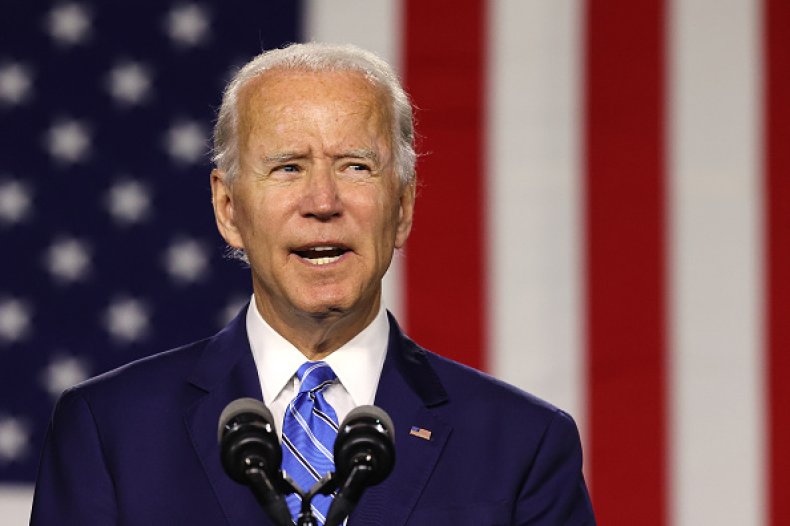 Pollsters identified Independents as a key factor behind Biden's new lead. The voting block now supports the presumptive Democratic nominee 51 to 37 percent. Quinnipiac University's previous June 18 national poll found a more even split, with 43 percent for Biden and 40 percent for Trump.
Fewer Republicans are also in favor of a second term for the Trump administration. GOP support for the president has fallen to 84 percent from 92 percent in June. There has been relatively little change among Democrats.
When asked about other key issues, the majority of participants thought Biden would be better than Trump at handling a crisis, health care, the coronavirus response and racial inequality.
Sixty-two percent of voters say they think the president is hurting rather than helping the efforts to slow the spread of COVID-19.
More than 7 in 10 Americans think everyone should be wearing face masks in public. The director of the National Institute of Allergy and Infectious Diseases Dr. Anthony Fauci has recommended everyone in the country should wear a face mask but the Trump administration has yet to mandate a nationwide requirement.
Two-thirds of those polled said they trust coronavirus information provided by Fauci over information from Trump.
"He may be out of the loop and in disfavor with the White House, but it's clear from the numbers, voters would like Dr. Fauci back on call," Malloy said.