Joe Biden's Narrow Missouri Lead Over Bernie Sanders Is Fueled by Over-50s and Non-Whites: Poll
Joe Biden holds a narrow lead over Senator Bernie Sanders in Tuesday's tightly-contested Missouri primary, according to a new poll, and is powered by support from the midwestern state's over-50 and non-white voters.
The Emerson College/Nexstar Media poll of Missouri's Democratic voters put former vice president Biden at 48 percent and Sanders, an independent from Vermont, at 44 percent. Biden's lead is within the poll's 4.7 percent margin of error.
There was 6 percent of voters still undecided and another 2 percent backing Congresswoman Tulsi Gabbard of Hawaii, a progressive who has remained in the race even as other higher-polling candidates dropped out.
The poll of 425 very likely voters took place between March 4-5 and was conducted through a mixture of landline calls, SMS, and an online panel.
Emerson's Missouri poll shows Biden with 70 percent support over Sanders' 21 percent among voters above the age of 50. By contrast, under-50s support Sanders over Biden by 66 percent to 27 percent. Taken together, Biden appears to have a small advantage.
Along racial lines, Biden and Sanders are 47 percent apiece with white voters. But Biden holds a strong lead with non-whites, at 50 percent support to Sanders' 36 percent.
According to Missouri census data, there are 2.5 million people in the state aged 18 to 49 and 2.24 million aged over-50. The younger cohort is 77.89 percent white and the older cohort is 86.75 percent white.
Missouri's primary, with its 78 delegates up for grabs, comes after Biden's revival during Super Tuesday where he came out on top and reclaimed frontrunner status from Sanders. Biden is profiting from fellow moderates dropping out of the race and falling in line behind him.
The 77-year-old former Delaware senator is now the sole moderate left standing following the exits of Mike Bloomberg, Pete Buttigieg, and Minnesota Senator Amy Klobuchar, all of who have endorsed Biden.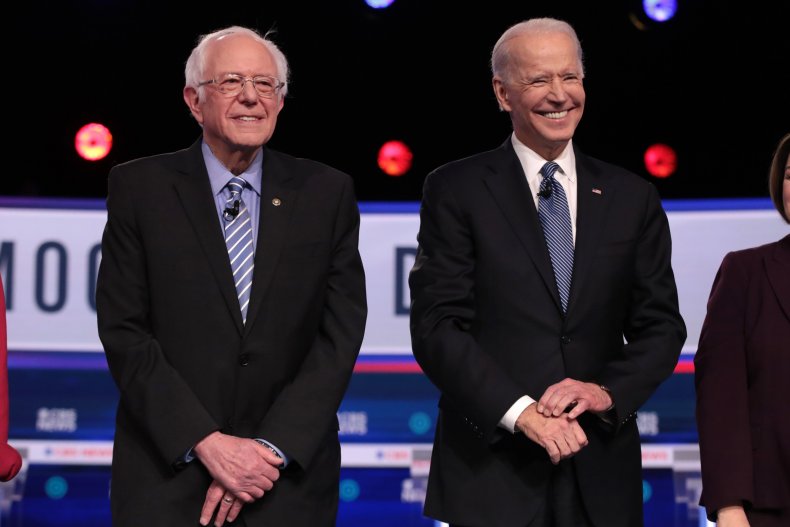 Sanders, 78, a democratic socialist, is now the last major progressive hope. Massachusetts Senator Elizabeth Warren, also a progressive, quit the race in the aftermath of a disappointing performance on Super Tuesday, including a third-place finish in her home state.
Warren is yet to endorse a candidate but Sanders supporters are hopeful she will get behind him. The two camps are reportedly in talks.
Biden won 10 of the 14 states on Super Tuesday and Sanders claimed victory in the rest. It followed Biden's big win in South Carolina, which was the first big test of his oft-cited "firewall" of support from black voters.
Other states with results due this coming Tuesday are the primaries in Idaho, Michigan, Mississippi, and Washington as well as the North Dakota caucuses.
After Super Tuesday, the total delegate count now stands at Biden on 627, Sanders on 551, Warren on 64, Bloomberg on 60, Buttigieg on 26, Klobuchar on 7, and Gabbard on 2. To win a majority of the delegates, the successful candidate must hit 1,991.
The graphic below, provided by Statista, illustrates the current delegate count.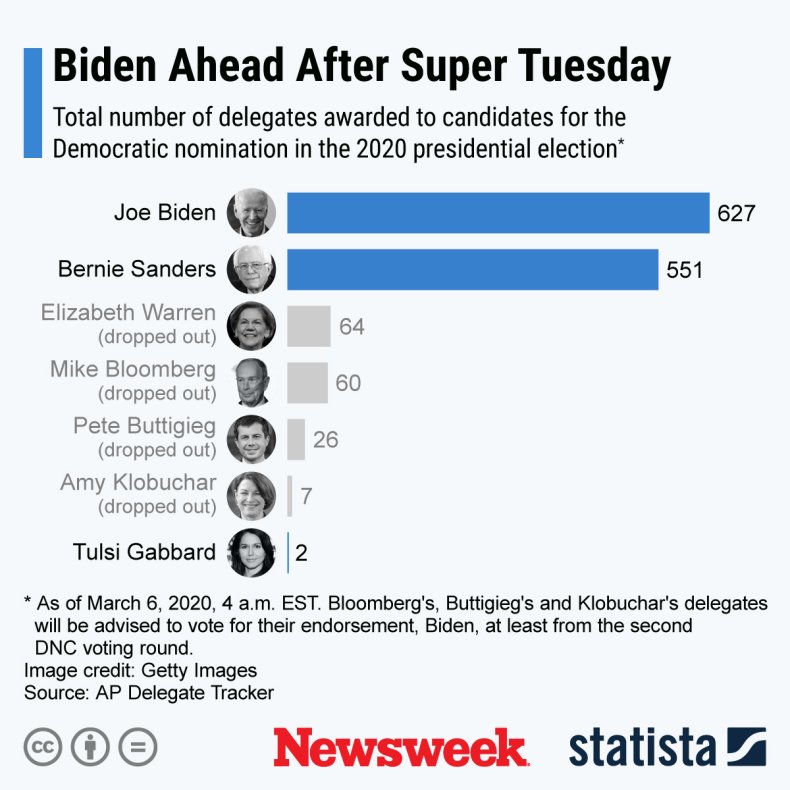 This article was updated to include an infographic.