Biden and Bernie's War of Words, a History of the Democratic Candidates' Sparring
Former Vice President Joe Biden and Sen. Bernie Sanders of Vermont agree climate change deserves critical attention. They've both voted for seminal War on Drugs legislation, but more recently advocate for criminal justice reform. They both have plans to reduce gun violence, bolster the middle class and remove corporate dollars from elections.
But the two front-runners of the Democratic primary have sparred on plenty. From capital punishment to health care, the two often represent two factions of the Democratic party: Biden, the older and more moderate faction; Sanders, the younger and more progressive.
While Biden rarely engages directly with more frequent jabs from the Sanders camp—recently telling reporters "you're not going to get me in a fight with Bernie"—some fights have been inevitable as the Democrats try to distinguish themselves in a still-crowded field.
Here are some of the candidates' recent and not-so-recent conflicts.
Social security
These candidates' first major tangle was in 2010 over Biden's negotiations with Republicans on Social Security, according to Politico. Sanders feared its proposed tax cuts could weaken the program. His filibuster and subsequent criticism of the deal, which passed, brought Sanders newfound levels of national attention.
"I know the vice president recently made the point this was originally a Republican idea," Sanders said from the Senate floor during his filibuster. "Why did the Republicans come up with this idea? These are exactly the same people who do not believe in Social Security."
Today, one of Biden's policy proposals aims to strengthen Social Security by raising taxes on people with "especially high wages," but Sanders intends to reiterate Biden's record on tonight's debate stage, Politico reported.
"Joe Biden has repeatedly worked to cut Social Security, and has never offered up a good explanation for that crusade," Sanders' speechwriter and senior adviser David Sirota told Politico.
Health care
In the fourth debate, Biden said both Sanders and Senator Elizabeth Warren of Massachusetts were being "vague" when it came to financing Medicare for All, a program that promises free health care for every American at the point of service. In the sixth, he said it wasn't realistic.
Biden's own proposal is to expand the Affordable Care Act, giving people an additional option to purchase government-run insurance.
"It's realistic. And most importantly, it lets you choose what you want," Biden said from the debate stage in December, referring to his plan. "Here you have 160 million people who negotiated their health care plans with their employer, like many of you have. You may or may not like it. If you don't like it, you can move into the public option that I propose in my plan," he continued.
Sanders countered that Biden's plan is more of the same, whereas Medicare for All eliminates premiums, co-payments, deductibles and out-of-pocket expenses. Earlier in the debate, he side-stepped a question from Politico's Tim Alberta, asking whether the Senator would attempt to pass smaller health measures that could pass a Republican-held Senate.
"Under Joe's plan, essentially we retain the status quo," Sanders said at the time.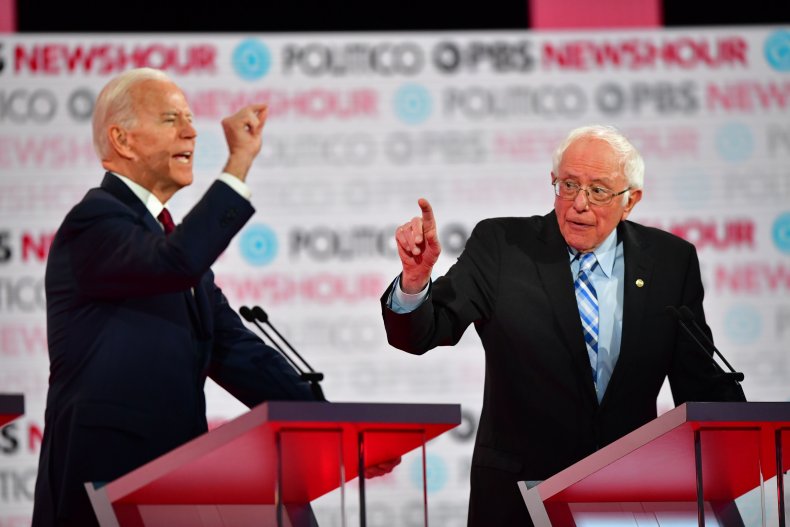 Iraq
Sanders has been a vocal critic of Biden's early support for the Iraq war. As recently as this weekend, top campaign staff for the senator decried efforts by the Biden camp, including former Secretary of State John Kerry, to "whitewash" Biden's record on the issue, they said.
"[Joe Biden] isn't getting away with rewriting history about how he helped lead America into the Iraq War," Sirota wrote on Twitter. It followed a press release by the Sanders campaign that said Biden's refusal to admit he was "dead wrong" on the Iraq War was "appalling."
The statements echoed the most recent debate, when Sanders, who conceded he made a "bad judgement" by initially supporting the war in Afghanistan, called out the former vice president directly.
"Joe, you're also the guy who helped lead us into the disastrous war in Iraq. What we need to do is...rethink is the entire war on terror," Sanders said from the debate stage, citing a recent investigation by The Washington Post.
Biden criticized how the Bush administration handled the war, including its failure to exhaust diplomatic solutions first, according to The Annenberg Public Policy Center. But contrary to his recent claims, Biden didn't oppose military action in Iraq immediately after the invasion. He wasn't given a chance to respond to Sanders during last month's debate.
Trade
Amid escalating trade tensions, Biden seemed to downplay the economic threat posed by China at an Iowa campaign stop in the Spring, according to reporting by CNBC: "China is going to eat our lunch? Come on, man."
Some thought Sanders launched a thinly-veiled response on Twitter, which pointed out that past deals with the country have cost Americans jobs. But around the same time, Sanders offered more pronounced criticism of the former vice president's record on trade in an interview with CNN.
"I helped lead the fight against [the North American Free Trade Agreement]. He voted for NAFTA," Sanders said on CNN, according to reporting by the Des Moines Register. "I helped lead the fight against [permanent normal trade relations] with China. He voted for it. I strongly opposed the Trans-Pacific Partnership. He supported it. I voted against the war in Iraq. He voted for it."
Biden told the Register that he was proud of his record and considers himself a "fair trader."
Other historic disagreements
Whereas Sanders promises to legalize marijuana at the federal level within the first 100 days of office, Biden has long been skeptical of the drug. In the past, he's supported downgrading marijuana from Schedule I to Schedule II, a less prohibitive federal classification. As recently as November, though, Biden supported full decriminalization.
Sanders backed legislation granting legal protections to gun manufacturers in 2005 that Biden opposed. Unlike Biden, Sanders also voted against a bill that required national background checks for firearm purchases at gun shows in 1993. Since, Sanders has co-sponsored various other gun-control measures such as restricting high-capacity magazines.
Biden also has supported capital punishment. In 1994, he helped write the Violent Crime Control and Law Enforcement Act, making 60 more offenses eligible for the death penalty. He also voted for the Antiterrorism and Effective Death Penalty Act of 1996, which made it more difficult for state defendants to be heard in federal court. Sanders voted against the latter but in favor of the former.
They also parted ways over the failed immigration reform bill of 2007, which would have offered a pathway to citizenship for undocumented immigrants. Biden voted for it; Sanders didn't. He's said he was concerned over workers' rights in the legislation's guest program. But at the time, the senator seemed more concerned about the program's effects on American wages, according to reporting by The Washington Post.
Bernie Sanders has long viewed gay rights as civil rights. He was one of only 67 lawmakers in the House to vote against the Defense of Marriage Act that banned same-sex marriage at the federal level, which Biden supported. Sanders is the only candidate of the two with a full-fledged LGBTQ package that, among other things, prohibits work-place discrimination.