Biden Blames Trump for Stimulus Failure, Says He's 'Spent All His Time In His Golf Course'
Democratic presidential nominee Joe Biden blamed President Donald Trump for the ongoing stimulus deadlock, saying he's "spent all his time in his golf course."
Biden gave a scathing rebuke of his Republican opponent at a campaign stop in Bucks County, Pennsylvania Saturday morning. The Democrat criticized the president for downplaying the severity of the pandemic in the early stages—hours after the U.S. reported about 84,000 new COVID cases on Friday night.
"I told him at the debate, we're not learning how to live with it," Biden said. "We're learning how to die with it. And it's wrong."
With just 10 days until the election with no stimulus deal in sight, the former vice president questioned whether Trump was serious about delivering relief to struggling American families.
"Trump can't get his own party to deliver real economic relief for working families," he said. "I don't think he wants to. Congress has passed the HEROES Act way back in May. He spent all his time in his golf course, in his bunker, not trying to bring together anybody to try and get it done."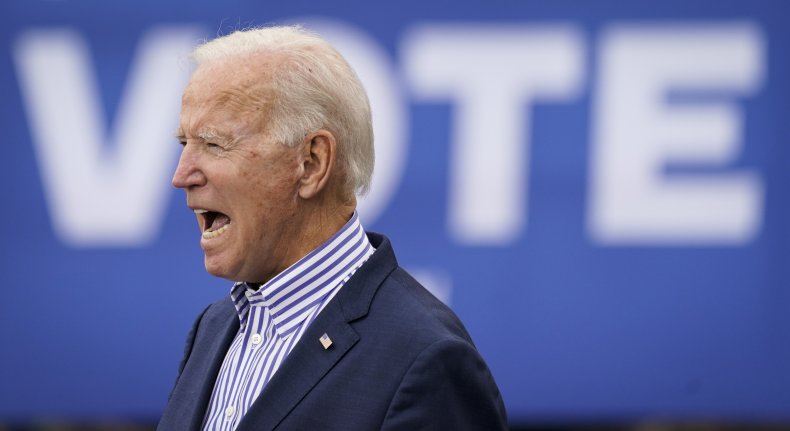 Biden insisted that rather than sorting out a bipartisan stimulus deal, Trump and the Republicans are focusing their time on rushing through the confirmation of Amy Coney Barrett to the Supreme Court.
"They don't have time for [stimulus]," he said. "To work on how to get relief now for hard working people, those who are unemployed, small businesses..,to schools in the middle of this pandemic."
"They do have time though to spend several weeks on confirming a new justice who's interested in doing one thing: getting rid of Obamacare."
Pelosi's self-imposed deadline for another coronavirus relief package ended Friday night when Democrats and the White House were still unable to reach an agreement. Lawmakers on both sides of the political aisle have acknowledged that the prospect for further relief is narrow. For a bill to be passed before Election Day, an agreement needed to be struck last night and written this weekend.
"It could always be a miracle, but not very many around here," Republican Senate Appropriations Committee Chairman Dick Shelby told reporters on Thursday.
House Speaker Nancy Pelosi on Friday said both parties still have "miles" to go but expressed her belief that another stimulus deal could still happen if Trump approves it. "We put pen to paper, we're writing the bill and hopefully we'll be able to resolve it," she said. "We could do that before the election if the president wants to. I think he does. I know we do. But we want this to be a bipartisan bill."
Trump and the Republicans have blamed Democrats for the months-long stimulus deadlock. "Now we're talking and we'll see what happens, but at this moment I would say that I actually think Nancy would rather wait 'til after the election," the president said in the Oval Office this week.
Newsweek reached out to the White House for comment.