Biden Budget Proposes Billionaires Pay 20 Percent of Income in Taxes
Multimillionaires and billionaires would face at least a 20 percent tax rate under the new budget proposed to Congress on Monday by the Biden administration, and is projected to generate hundreds of millions of dollars for the federal government.
"The tax code currently offers special treatment for the types of income that
wealthy people enjoy," the budget plan says. "This special treatment, combined with sophisticated tax planning and giant loopholes, allows many of the very wealthiest people in the world to end up paying a lower tax rate on their full income than many middle-class households."
To address the inequity, the budget includes a 20 percent minimum tax on multimillionaires and billionaires who often pay low tax rates. The minimum tax would apply only to the wealthiest 0.01 percent of households—those with more than $100 million—and more than half the revenue would come from billionaires alone.
The budget plan estimates that the tax would generate more than $360 billion in the next 10 years.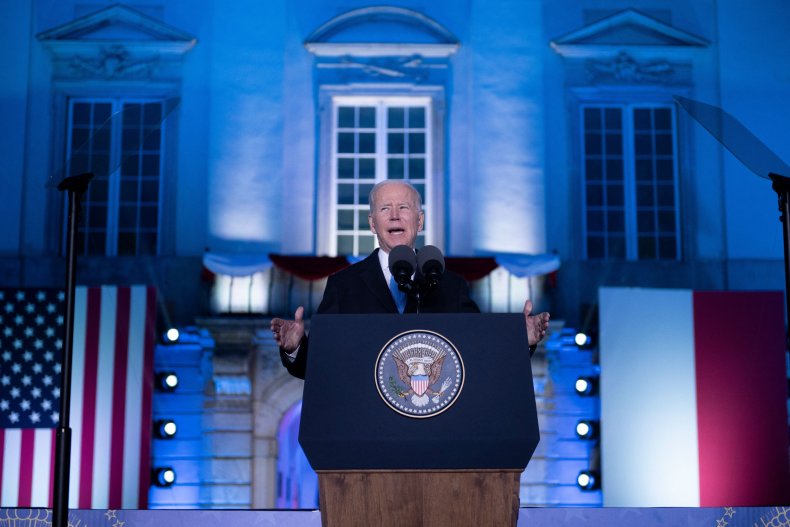 The new budget also proposes over $770 billion for the Department of Defense, including $682 million in continued aid for Ukraine, and $400 million to "counter the malign influence" of China in the Indo-Pacific region.
It also proposes billions of dollars to several other areas, including stated improvements to the immigration process, more than $100 billion for the Department of Veterans Affairs to improve the care and treatment of veterans, and a new policy requiring private health insurance providers to cover mental health and substance abuse treatments.
"Budgets are statements of values, and the budget I am releasing today sends a clear message that we value fiscal responsibility, safety and security at home and around the world, and the investments needed to continue our equitable growth and build a better America," Biden said in a statement preceding the release of the budget plan.
The Biden administration projects the budget deficit for 2022 to be $1.4 trillion, less than half of the highs that were reached as the pandemic drove government spending to a deficit of $3.1 trillion.
Biden's proposal includes other methods of paying for programs through other tax increases, like a bump in the corporate tax rate to 28 percent, up from the 21 percent it was cut to in a 2017 tax cut under the Trump administration.
The proposal also says it will adhere to Biden's campaign promise of not raising taxes for anyone who makes less than $400,000 annually.
The proposal also cites "other changes" to the corporate tax code that would incentivize companies to invest in hiring and investing in operations within the U.S. rather than moving abroad.
Update 3/28/22, 12:55 p.m. ET: This story has been updated with additional information.