Biden Calls for $2K Stimulus Checks Post-Georgia Runoffs, But at Least One Democrat Opposes
After Republicans lost control of the Senate this week, President-elect Joe Biden on Friday renewed his call for $2,000 stimulus checks. However, at least one Democrat opposes the idea.
Democrats have secured control of the upper chamber by winning both Georgia Senate runoff elections, paving the way for the party to deliver the $2,000 direct payments that its leaders have been promising over the past few weeks. With control of both congressional chambers, Biden on Friday demanded that the larger checks be included in the next coronavirus stimulus measure.
"We need more direct relief flowing to families and small businesses, including finishing the job and getting people $2,000 in relief," he said in Delaware. "Six hundred dollars is simply not enough when you have to choose between paying rent or putting food on the table and keeping the lights on."
With the newly-elected Georgia senators, Jon Ossoff and Raphael Warnock, Democrats will have 50 seats in the upper chamber, and Vice President-elect Kamala Harris now has the tiebreaking vote.
To ensure the fatter checks are passed, Senate Democrats may need to circumvent the GOP filibuster by securing a simple majority of 51 votes. But at least one Democratic senator has expressed firm opposition to $2,000 stimulus checks.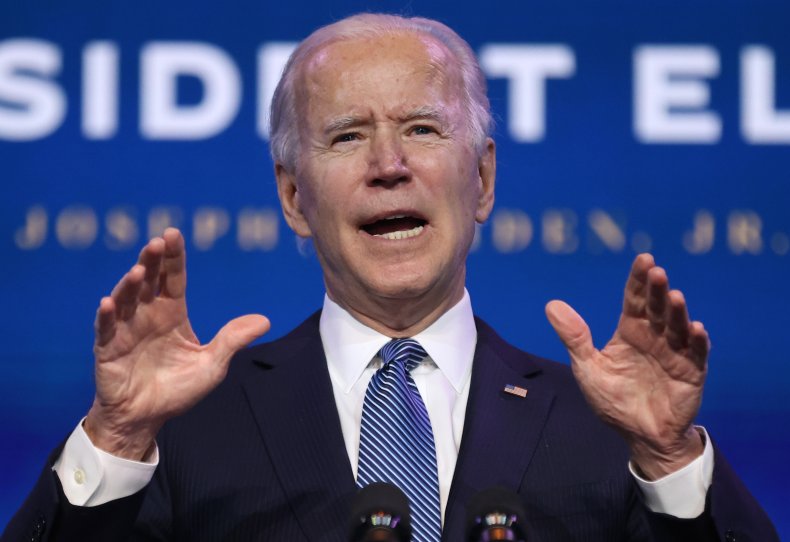 In a Friday interview with The Washington Post, Joe Manchin of West Virginia said "absolutely not" to $2,000 direct payments, and stressed that "getting people vaccinated is job number one."
"How is the money that we invest now going to help us best to get jobs back and get people employed? And I can't tell you that sending another check out is gonna do that to a person that's already got a check," he said.
In a later tweet, Manchin said that the next round of stimulus checks "should be targeted to those who need it."
If Manchin opposes the $2,000 checks, incoming Senate Majority Leader Chuck Schumer would need to find at least one Republican senator for the measure to pass. Several Republicans, including Senators Josh Hawley of Missouri and Lindsey Graham of South Carolina, have already strongly supported increasing the recently passed $600 checks to $2,000.
Newsweek reached out to Biden's transition team for comment.
President Donald Trump pushed to fatten the second check to $2,000 before he signed the latest coronavirus relief bill late last year. A measure to boost the payments passed the House, but outgoing Senate Majority Leader Mitch McConnell blocked a standalone vote.
Schumer will soon be the lawmaker who decides the bills that reach the Senate floor. After the Georgia runoff elections, the top Democrat said allowing a vote on the checks would be "one of the first things that I want to do."
Biden made a last-minute plea to Georgians on the eve of the runoffs by vowing to deliver $2,000 checks if Democrats have control of all three branches of government.
"Georgia, there's no one in America with more power to make that happen than you, the citizens of Atlanta, the citizens of Georgia and that's not an exaggeration. That's literally true," he said. "If you send Jon and the reverend to Washington, those $2,000 checks will go out the door, restoring hope and decency and honor for so many people who are struggling right now."
Both Warnock and Ossoff also campaigned on the promise to deliver $2,000 stimulus checks to Americans.