Biden Calls on Congress to Expedite COVID-19 Stimulus That's Stalled for Months
President-elect Joe Biden is pressing Congress to fast-track another coronavirus stimulus package after a months-long standoff between House Democrats and Senate Republicans.
"Right now, Congress should come together and pass the COVID relief package," Biden told reporters Monday. "There's so much we can do, but the only way we do any of this is we work together."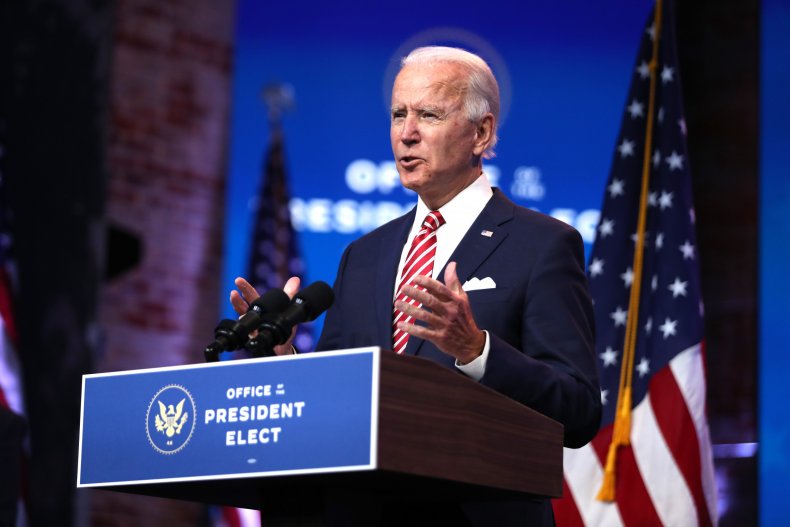 The Democrat-controlled House passed a $3.4 trillion next-phase stimulus, dubbed the HEROES Act, in May, but the Senate hasn't taken it up for a vote. GOP leaders in the upper chamber say the Democratic plan is too expensive. They prefer a smaller, more targeted package. President Donald Trump's administration has attempted to broker some sort of agreement without success.
After a meeting with labor and business leaders in Delaware on Monday, Biden said he will support HEROES or something that resembles it to help the economy as coronavirus cases continue to surge throughout the country.
"It has all the money and capacity to take care of each of those things now—not tomorrow—now," Biden said. "The idea that [Trump] is still playing golf and not doing anything about it is beyond my comprehension."
Trump hasn't conceded the election to Biden, though major media outlets projected Biden as the winner more than a week ago.
Trump has continued to falsely tweet that he won the race and lobbed accusations that the election was "rigged" without evidence.
Trump has blocked the traditional transition process that takes place between administrations. The lack of coordination has extended to the nation's plans for addressing the COVID-19 pandemic and distributing a vaccine when it's approved.
"More people may die if we don't coordinate," Biden warned. "I'm hopeful that the president will be more enlightened before we get to January 20."
Nearly 250,000 people have died of COVID-19 in the United States this year.
Biden has begun taking calls with world leaders and lawmakers on Capitol Hill and holding meetings like the one on Monday with business leaders as he tries to navigate the unconventional transition period.
"I find this more embarrassing for the country than debilitating for my ability to get started," he said of Trump's tactics.
Biden said he plans to work a national coronavirus response strategy that would include mask mandates, increased testing, free distribution of a vaccine for 350 million people and ramped-up production of personalized protective equipment and other necessary items.
"We're going in a very dark winter," Biden said. "It's gonna be difficult but it can be done."