Biden Calls on Congress to Lower 'Outrageously Expensive' Prescription Drug Costs
President Joe Biden is calling on Congress to act to lower prescription drug prices by creating penalties for pharmaceutical companies that raise their prices faster than inflation, giving Medicare the authority to negotiate drug prices and approving other cost-cutting measures.
"There aren't a lot of things that almost every American can agree on, but I think it's safe to say that all of us—whatever our background or our age, where ever we live—can agree that prescription drug prices are outrageously expensive in America," Biden told reporters Thursday. "We need Congress to act."
Medicare—the federal health insurance program that covers more than 61 million Americans, most of them ages 65 and older—can negotiate costs for every other service, but it's blocked from the same power when it comes to prescription drugs.
Biden said allowing the program to negotiate would open the lower prices up to commercial payers, so costs for employer health insurance would also fall.
"Right now, drug companies will set a price at whatever the market will bear," Biden said. "The prices have put a squeeze on too many people's families."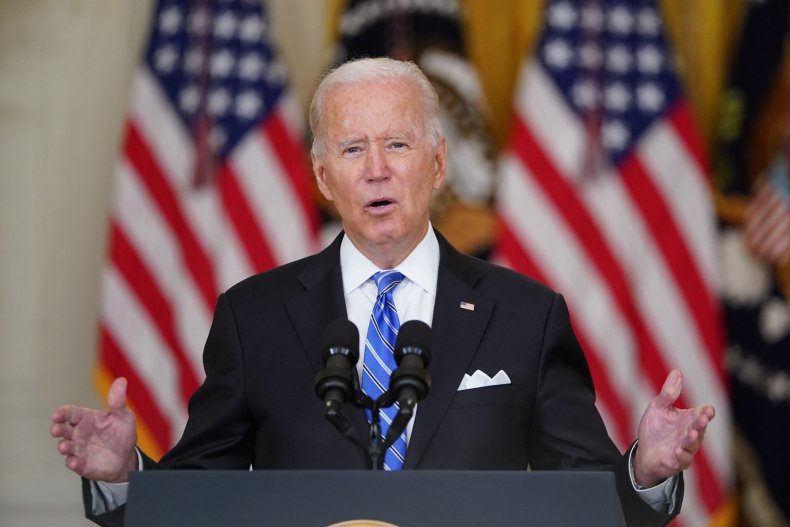 Biden wants the federal government to create a new advanced research initiative that would lead efforts to develop new life-saving drugs.
Pharmaceutical companies have opposed Democrat-backed measures in the past.
Steve Ubl, president and CEO of the Pharmaceutical Research and Manufacturers of America (PhRMA), an umbrella organization that advocates for the majors pharmaceutical companies in the country, said in a statement to Newsweek that the companies want to work with the federal government to come up with a plan to lower costs but called Biden's proposal a "misguided approach."
"Unfortunately, the policies the president outlined today would undermine access to life-saving medicines and fails to address an insurance system that shifts the cost of treatments onto vulnerable patients," Ubl said. "Many in Congress know that access to medicine is critical for millions of patients and Medicare is not a piggy bank to be raided to fund other, unrelated government programs."
"The recent infrastructure bill is a reminder that bipartisan reform is possible, and patients deserve the same bipartisan leadership to help ensure they have access to their medicines with out-of-pocket costs that are affordable," he added.
The Democrat-controlled U.S. House and Senate have put an emphasis on lowering drug costs—a top Biden campaign pledge. The Senate recently signed off on a $3.5 trillion budget blueprint, on a party-line vote, that includes Medicare negotiating power. The final draft isn't expected until later next month, so the language could change.
In July, Biden signed an executive order that directed the Food and Drug Administration (FDA) to work with states and tribes to safely import prescription drugs from Canada. He wants Congress to extend the drugs covered under those agreements.
Biden's executive order also directed the Department of Health and Human Services (HHS) to increase support for generic drugs, which provide low-cost alternatives for patients, and it urged the Federal Trade Commission (FTC) to use its authority to ban "pay for delay"—a system in which brand-name drugmakers pay generic companies so they won't make lower-cost alternatives.
A recent poll from the non-partisan Kaiser Family Foundation found that more than half of adults surveyed said they were taking prescription medications. Nearly 80 percent of everyone surveyed said prescription drug prices are "unreasonable."
"It's taking people's dignity," Biden said. "People've been forced to make terrible choices between maintaining their health, paying their rent or mortgage, putting food on the table—literally, that's the case for a lot of working families and seniors."