Biden Calls Florida's Anti-LGBTQ Bill 'Hateful,' Vows 'I Have Your Back'
President Joe Biden is defending LGBTQ students by slamming the "Don't Say Gay" bill proposed by Florida Republicans.
The legislation, coined as the "Don't Say Gay" bill by naysayers, seeks to ban the discussion of sexual orientation and gender identity in classrooms. The Republican-led Senate Education Committee gave initial approval of the controversial proposal in a 6-3 vote Tuesday despite condemnation from activist groups.
Biden took to Twitter promising LGBTQ students he would stand up for them.
"I want every member of the LGBTQI+ community — especially the kids who will be impacted by this hateful bill — to know that you are loved and accepted just as you are. I have your back, and my Administration will continue to fight for the protections and safety you deserve," Biden wrote.
"A school district may not encourage classroom discussion about sexual orientation or gender identity in primary grade levels or in a manner that is not age-appropriate or developmentally appropriate for students," the proposed bill states.
The legislation also gives parents the ability to file lawsuits against school districts for violations of the bill.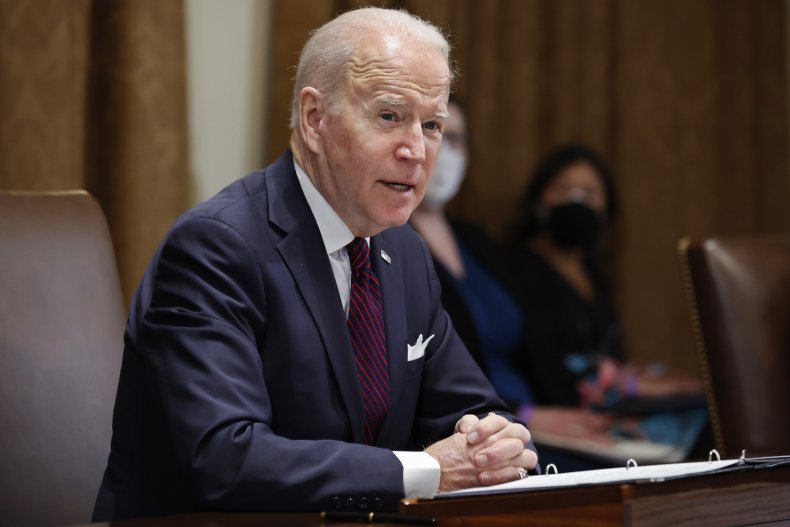 Florida Governor Ron DeSantis did not fully commit to signing the bill, but voiced his support by saying it was "entirely inappropriate" for teachers to have those conversations with students without parental consent.
"I haven't looked at any particulars of anything but I do think you've seen instances in which kids are encouraged to be doing stuff with like a gender ideology and I think the parents really do need to be involved in that," DeSantis said according to the Miami Herald.
"Every parent hopes that our leaders will ensure their children's safety, protection, and freedom. Today, conservative politicians in Florida rejected those basic values by advancing legislation that is designed to target and attack the kids who need support the most—LGBTQI+ students, who are already vulnerable to bullying and violence just for being themselves," the White House told Newsweek.
The White House said Florida's case isn't an isolated action but is being seen across the country as Republicans work "to regulate what students can or cannot read, what they can or cannot learn, and most troubling, who they can or cannot be."
LGBTQ activist and Florida State Representative Michele Rayner echoed the White House's response to Florida's anti-LGBTQ bill Tuesday evening on MSNBC's The Beat With Ari Melber.
"[DeSantis] wants to say Florida is a free state but it's only free if you act like him, look like him, and are a cisgender heterosexual white Republican man," said Rayner.