Biden Calls for Increased Funding for Police to Fuel Reform Efforts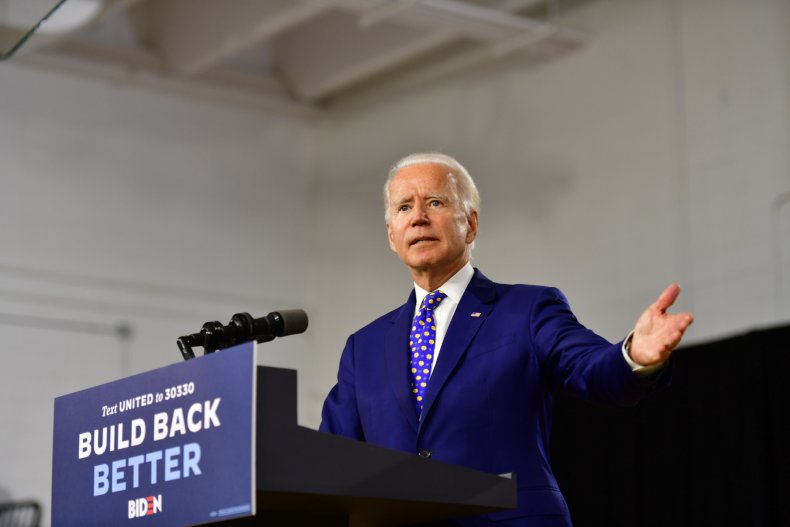 Former Vice President Joe Biden has refuted President Donald Trump's claim that he wants to defund the police, instead calling for police to receive additional money to fund reform efforts.
Biden made the remarks during a virtual campaign fundraiser with Atlanta Mayor Keisha Lance Bottoms on Wednesday. Trump has repeatedly claimed, without evidence and in contradiction to Biden's own statements, that the former vice president is in favor of defunding the police, a proposal that has become a popular rallying cry for some amid ongoing Black Lives Matter protests.
"I don't want to defund police," Biden said. "I want to get police more money in order to deal with the things they badly need from making sure they have access to community policing, that they have also in the department's social workers, psychologists, people who in fact can handle those god awful problems that a cop has to have four degrees to handle."
If he wins November's election, Biden has vowed to swiftly enact police reforms during his first 100 days in office. His immediate proposals include nationally blocking police from using controversial chokeholds that several jurisdictions already banned following the May 25 death of George Floyd, which sparked the widescale protests against police brutality and racial injustice.
"Reform means, at least the beginning, banning chokeholds, stopping transferring military weapons of war to the police departments, creating a model use of force standard and holding all police to the high standard," said Biden.
"[In] my first 100 days I'm going to create a national police oversight commission with civil rights leaders, police officers, police chiefs and experts in the criminal justice and police to do police reform, get every police department in the country to fully review their hiring training and de-escalation practices," he added.
Calls to defund the police typically center on reducing police forces and reforming what remains in an attempt to limit brutality and racial bias, while redirecting funds to community-based programs that would handle non-violent offenses.
Defunding plans have been popular among some on the left, and governments in cities including Minneapolis, Minnesota and Washington, D.C. have passed related legislation. However, only a handful of prominent national Democrats have indicated they support the proposals and Biden has not been one of them.
Trump has insisted Biden is in favor of defunding police departments, despite evidence to the contrary. During an interview that aired on Fox News last month, the president appeared to become upset when interviewer Chris Wallace contradicted his assertion that Biden seeks to both defund and abolish the police, demanding that aides bring him a document that he claimed would offer proof.
Trump was unable to find the supposed proof as he searched through the document, a list of joint proposals drafted by allies of Biden and Sen. Bernie Sanders that does not include a plan to defund or abolish the police. He then complained to Wallace that the document was "many pages long."
There have been no other documents or indications that would suggest Biden has ever supported defunding the police. Regardless, Trump's campaign reportedly spent at least $20 million promoting the false claim during July.
Newsweek reached out to the White House and the Trump campaign for comment.