Biden Calls 'Malarky' on Republicans Who Say He Doesn't Understand Suffering, Inflation
In a Friday press conference, President Joe Biden addressed some of the highlights in the Department of Labor's December jobs report, taking a moment during his speech to address the latest concerns hurled at him by Republicans.
"Now, I hear Republicans say today that my talking about this strong record shows that I don't understand," Biden said. "A lot of people are still suffering, they say. Well, they are. Or that I'm not focused on inflation—malarky."
Biden spent the first portion of his addressing sharing with the American people that this jobs report, which showed that 6.4 million jobs have been added over the past year, represented the "the most jobs in any calendar year by any president in history." He added that the national unemployment rate fell to 3.9 percent, the first time it had been under 4 percent during the first year of a sitting president "in 50 years."
Despite a number of prominent economists praising the president's performance, the public continues to view the Biden administration's efforts as a failure. Sixty percent of the 1,895 people surveyed for a recent CNBC/Change Research poll "disapprove" of how he has handled the economy.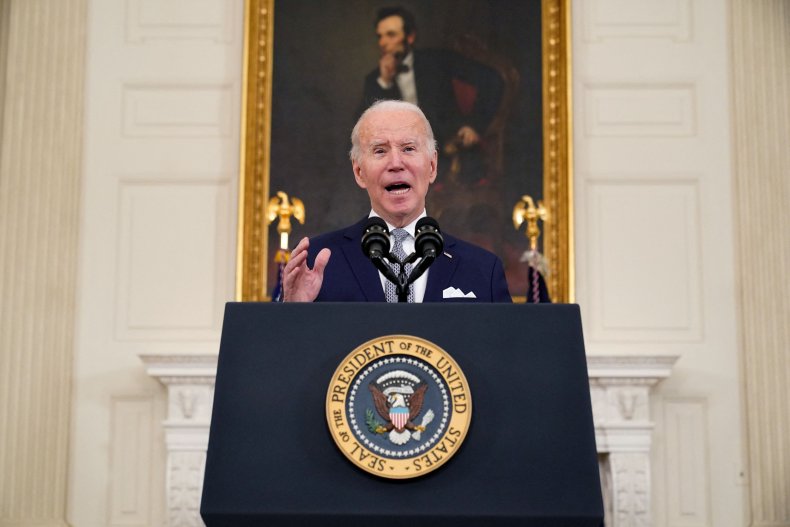 The president's critics have largely pointed to America's historic 6.8 percent inflation increase when knocking his performance, especially as supply chain concerns did not largely materialize during the holiday season.
"Joe Biden and Democrats are leading our nation down a dark economic path of fewer jobs, higher prices and less opportunity," Florida's Republican Senator Rick Scott said in October. Senate Minority Leader Mitch McConnell tweeted in December in response to his opposing the Build Back Better plan: "It is unthinkable that Senate Democrats would try to respond to this inflation report by ramming through another massive socialist spending package."
While the price of gas and groceries has indeed experienced a rise, Gary Burtless, an economist with the Brookings Institution, previously told Newsweek that in terms of America's pandemic recovery following the pandemic's onset, he is "surprised at how good things have turned out to be from an economic standpoint."
However, Burtless said that while the economy may be a success story in the eyes of those who regularly follow it, for average Americans, price increases tied to inflation shape perceptions. "Even though I think a sizable segment of the American population is, from an economic standpoint, actually better off than they were before the pandemic, they still think things should be better and could be better," he said.
Biden said during his address that Republicans have zeroed in on issues like inflation and ignored the larger successes because most of their party generally voted against the measures that have resulted in the historic recovery.
"America is the only leading economy in the world where the economy as a whole is stronger than before the pandemic," Biden said. "(Republicans) want to talk down the recovery because they voted against the legislation that made it happen. They voted against the tax cuts for middle-class families. They voted against the funds we needed to reopen our schools, to keep police officers and firefighters on the job, to lower health care premiums."