Biden Campaign Accuses Trump of 'Destroying' America's Economy After Announcing $60.5M April Fundraising Haul
A new Joe Biden campaign ad claimed that President Donald Trump "destroyed" the U.S. economy by failing to adequately respond to the threat of COVID-19.
The ad, released online Monday, features a nearly three-minute long timeline of Trump's response to the coronavirus. After presenting various clips of the president and members of his administration repeatedly downplaying the growing threat of the virus, the ad concludes that Trump is responsible for an unprecedented economic downturn.
"Donald Trump doesn't understand. We have an economic crisis because we have a public health crisis. And we have a public health crisis because he refused to act," the video's narrator says. "Donald Trump didn't build a great economy. His failure to lead destroyed one."
The ad was reportedly targeted to run on Facebook, Instagram and YouTube in the key swing states of Florida, Michigan, Arizona, North Carolina, Pennsylvania and Wisconsin. It is one of a small number of early ads from the Biden campaign. The campaign announced Monday that it had raised $60.5 million in April as the pandemic took hold of the U.S.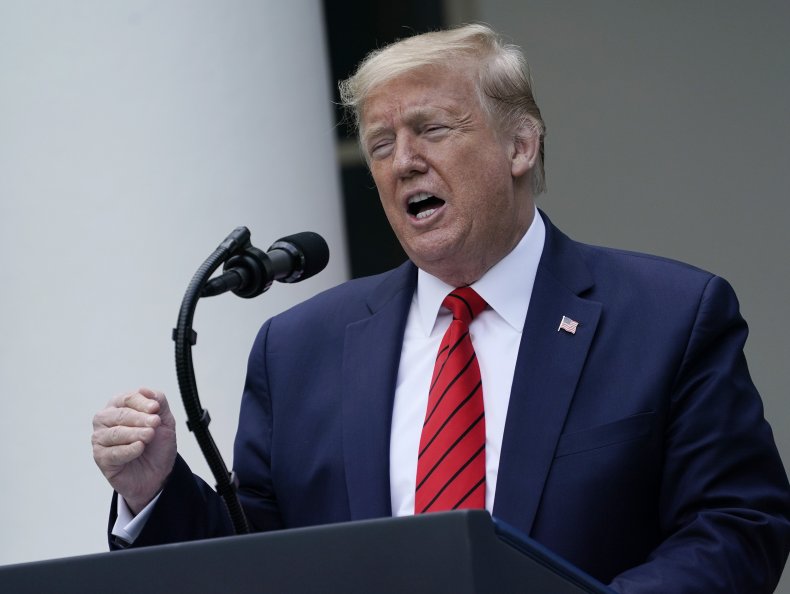 The Trump campaign called the new ad "absurd," insisting that public safety and the health of the economy were the president's top priorities and that the president had nothing to do with the economy being "artificially interrupted" by the coronavirus.
"This is another absurd and factually inaccurate attempt to be relevant by Joe Biden. While President Trump was stopping incoming flights from China, Joe Biden was screaming it was 'hysterical xenophobia,'" Erin Perrine, principal deputy communications director for the Trump campaign, said in a statement to Newsweek.
"President Trump's bold and decisive action saved countless lives and helped flatten the curve," Perrine added. "If Joe Biden was in charge, the response to the coronavirus would have been devastating."
The new ad comes after Trump and his several of his supporters launched their own attacks on Biden in relation to the pandemic, casting the former vice president as being too friendly towards China.
The Trump campaign released an ad last week featuring several clips of Biden speaking positively about China, some from his time as vice president. In addition, the pro-Trump group America First Action PAC reportedly spent $10 million on "Beijing Biden" campaign ads set to air in swing states.
Biden's campaign ad also specifically targets Trump for being soft on China, highlighting a January 24 tweet from the president praising China for the "transparency" of their response to the virus, along with video clips of him making friendly remarks about the country as the health crisis escalated.