Presumptive Democratic presidential nominee Joe Biden said Monday on MSNBC that his campaign had thoroughly vetted four vice-presidential candidates.
Biden has not chosen a vice-presidential candidate for his 2020 presidential bid, leaving many observers to speculate on who may be on the short list. While names have not been officially released by Biden's campaign, some lawmakers have gone public about removing themselves from consideration. Biden told Joy Reid on her MSNBC program The ReidOut on Monday that there were currently four candidates that had passed the vetting process.
"We have gone through about four candidates so far in the two-hour vetting," Biden said, "and we will get all the vetting done of all the candidates, and then I am going to narrow the list, and then I will have personal discussions with each of the candidates who are left."
During the March Democratic debate in Arizona, Biden said he would choose a woman as his running mate. Since then, the campaign has kept the list of potential vice presidents relatively secret. Some political observers have said Biden's campaign would benefit from the choice of a Black woman as his running mate.
"I am not committed to naming any but the people I have named, and among them are four Black women," Biden said. "So that decision is underway right now."
Newsweek reached out to the Biden campaign for comment.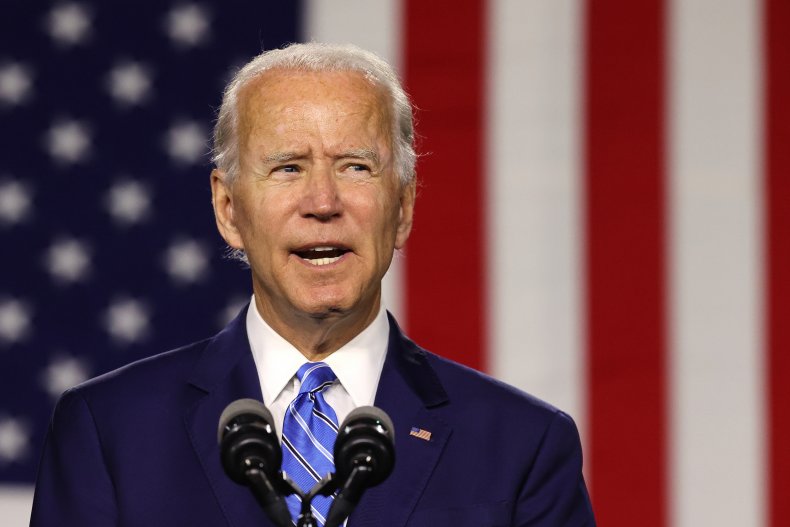 In June, Minnesota Senator Amy Klobuchar announced that she had removed her name from consideration to be Biden's vice president. Klobuchar endorsed Biden after suspending her own presidential campaign in March. In an interview with MSNBC in June, Klobuchar said she told Biden that "this is a moment to put a woman of color on that ticket."
Nevada Senator Catherine Cortez Masto also withdrew herself from Biden's list in May. Cortez Masto was the first Latina elected to the U.S. Senate.
"I support Joe Biden 100 percent and will work tirelessly to help him get elected this November," Cortez Masto said in a May statement.
During a June interview with the NBC program Today, Biden's wife Jill admitted that California Senator Kamala Harris was "on the short list" of Biden's choices.
Harris endorsed Biden in March after suspending her run for the Oval Office. "I truly believe our nation is at an inflection point," Harris said in a statement at the time. "And the decision voters make this November will shape the country and the world our children and grandchildren will grow up in. I believe in Joe Biden and will do everything in my power to help elect him the next president of the United States."
Other women alleged to be on Biden's list are Massachusetts Senator Elizabeth Warren, Florida Representative Val Demings and Atlanta Mayor Keisha Lance Bottoms.
Biden described his ideal running mate in March as an individual who is "simpatico with where I want to take the nation in terms of domestic and foreign policy. I think there are a number of women who are in that category."