As former Vice President Joe Biden continued to face scrutiny over a past sexual assault allegation on Tuesday, his campaign team sought to highlight his plans to "support women during the COVID-19 crisis" in a fact sheet branding the former VP a "champion for women."
"Women in the United States are acutely impacted by this pandemic. Millions have lost their jobs or had their hours slashed and are worried about making ends meet," Biden's campaign team said in the fact sheet.
"Others are doing essential work that has so often been unseen, underpaid, and undervalued. And, while this virus can hit anyone, anywhere, it doesn't impact every community equally. It hits hardest those who are most vulnerable and who have the fewest resources, including women of color and low-income women."
That is why, the campaign states, Biden, if elected president "will act so women don't struggle as much financially through the pandemic."
"He will act so women can get the health care they need and domestic violence survivors have a safe place to call home. And, he will act so that when the United States begins to recover from COVID-19, women are not left out of the recovery."
"Joe Biden has long been a champion for women—for their safety, their health care, their paychecks, and their families," the fact sheet states.
The effort to draw attention to Biden's record on women's issues, as well as his plans to help support women hard-hit by the coronavirus pandemic, came as the vice president made multiple headlines over allegations of a past sexual assault from former Senate staffer Tara Reade.
Reade, who spoke with Newsweek last month, has accused Biden of pushing her against a wall before penetrating her with his fingers in an alleged incident in 1993, when she was a staffer in his Senate office.
When she spoke with Newsweek, Reade believed it was unlikely that she would ever see "traditional justice" by bringing her allegations forward. However, she said she wanted to share her story because she did not want to "have to keep a secret" just because it involved "somebody powerful."
Since then, Reade has filed a police report over the alleged incident with the Washington Metropolitan Police Department.
Sharing her decision on Twitter earlier this month, she acknowledged that the statute of limitations around the claims had passed.
"I filed a police report for safety reasons only," she said.
In the weeks since Reade's allegations first came to light, Biden has faced growing scrutiny, while Democratic supporters have also faced pressure to go on the record on whether they still support the former vice president despite the accusations.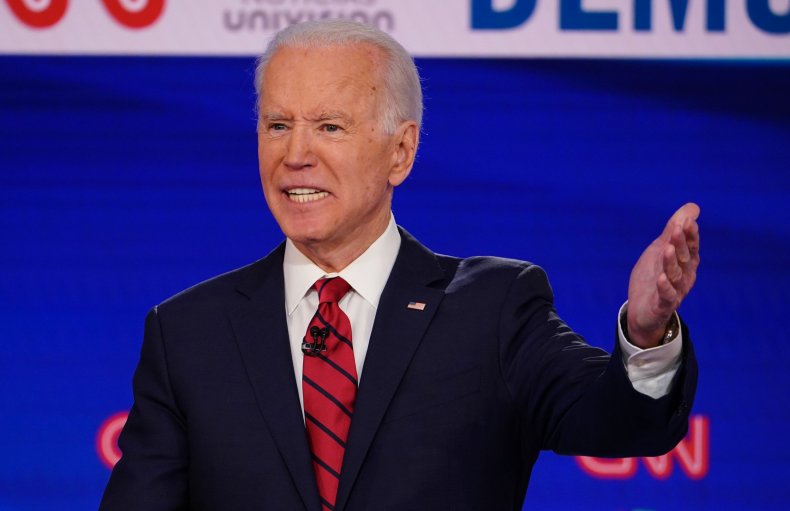 A number of high-profile Democrats have said they still back Biden, with former Georgia gubernatorial candidate Stacey Abrams saying on Tuesday: "I believe Joe Biden."
"I believe that women deserve to be heard and I believe they need to be listened to, but I also believe that those allegations have to be investigated by credible sources," Abrams told CNN's Don Lemon on CNN Tonight.
"The New York Times did a deep investigation and they found that the accusation was not credible," she added. The Times' report that Abrams appeared to reference did not come to any conclusion on whether or not Reade's allegations are credible, however.
Former Democratic presidential hopeful Sen. Kirsten Gillibrand (D-N.Y.) has also defended Biden, saying that while it is important to allow women to "come forward to speak their truth," she still supports Biden.
Reade, Gillibrand said, "has come forward, she has spoken, and they have done an investigation in several outlets. Those investigations, Vice President Biden has called for himself. Vice President Biden has vehemently denied these allegations, and I support Vice President Biden," she said.
Newsweek has contacted the Biden campaign and Reade for comment.