Biden Campaign Says Trump Election Lawsuit Would Be 'Laughably Without Merit'
Bob Bauer, a campaign adviser for Joe Biden, has said a lawsuit from President Donald Trump's team contesting the 2020 election results would be "laughably without merit."
In a speech in the early hours of Wednesday morning, Trump falsely claimed he had already won the election, despite no news organizations declaring a victor.
He also called for ballots to stop being counted before many millions of votes had been tallied, baselessly alleging that fraud was taking place, and vowed to mount a legal challenge.
"We'll be going to the U.S. Supreme Court," he said, without elaborating on exactly why. "We want all voting to stop," he added, even though voting had ended hours earlier and only counting is now taking place.
Asked about a possible legal challenge during a briefing Wednesday, Bauer, who served as White House counsel in Barack Obama's administration and is leading the Biden campaign's election protection efforts, said he was "not worried about it."
He also noted that the president wouldn't be able to go directly go to the high court with a claim of fraud and would have to move their claim through lower courts first.
"Can President Trump get to the Supreme Court?" Bauer said. "Well, of course, a lawsuit could be filed on whatever theory he concocts and we've had a taste of what that might be. And he'll lose and that'll be appealed and then at the appellate level, he'll lose again and he'll appeal and try to get the Supreme Court to hear his case."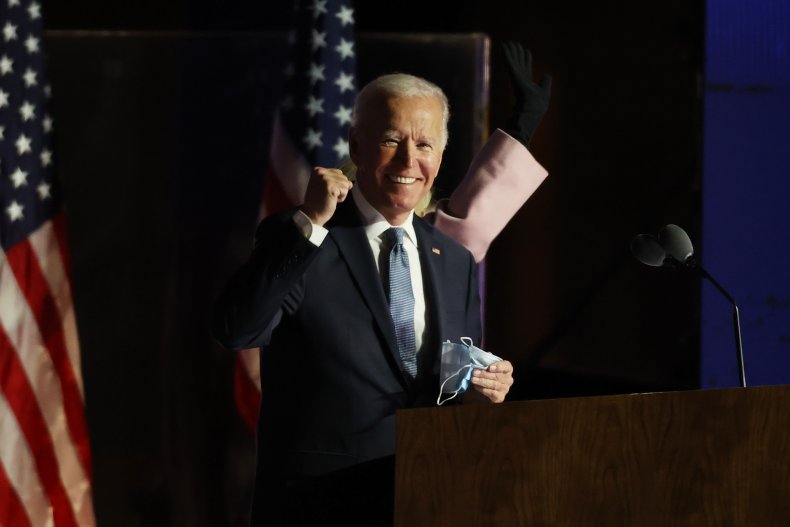 He added that while he doesn't know what that case is going to be, it's "impossible to imagine it will have any merit."
"In fact, it's, I'd have to say, laughably without merit," he said. "But if they want to push something up to the Supreme Court one way or the other, presumably they can do that, we're not worried about it."
He added that Biden was "winning the election" and his team would work to defend it. "So we don't have to do anything but protect the rights of voters and to stand up for the democratic process," he said.
"If it's attacked, as the president suggests it will be attacked. we're going to successfully repel that attack. So that's our mission. His mission is to attack the democratic process, and our commitment is to successfully defend it."
In a statement, Biden's campaign manager Jen O'Malley Dillon said the president trying to "shut down the counting of duly cast ballots was outrageous, unprecedented, and incorrect."
It was also criticized by some of the president's allies, including the former Republican governor of New Jersey, Chris Christie.
But the Republican incumbent doubled down on his baseless claims of election fraud in a series of tweets on Wednesday that were promptly flagged by Twitter for containing disputed or misleading information.
Meanwhile, Edward Foley, an election law professor at Ohio State University, tweeted: "The valid votes will be counted. SCOTUS would be involved only if there were votes of questionable validity that would make a difference, which might not be the case.
"The rule of law will determine the official winner of the popular vote in each state. Let the rule of law work."