Biden Campaign Sets September Fundraising Record, 20 Percent Being First-Time Donors
Joe Biden's election campaign established a new monthly fundraising record in September, surpassing the previous record it set in August.
The Democratic presidential nominee announced his campaign received $383 million in donations over the past month on Wednesday, sharing thanks to those who contributed in a written message and video posted to Twitter.
His campaign's latest fundraising numbers exceeded August donations by nearly $20 million, and more than half of the contributions it acquired in September—totaling upwards of $200 million—were donated online.
"To every person who chipped in a few dollars last month—thank you," Biden wrote Wednesday, announcing the campaign's second consecutive monthly fundraising record. "Because of your support, we raised an astounding $383 million. I'm incredibly humbled."
During his announcement's video counterpart, Biden said donations to the campaign amounted to about $44 on average. In a subsequent string of tweets, Jen O'Malley Dillon, Biden's campaign manager, attributed the donations received in September to "grassroots supporters," a sizable portion of whom had never donated before.
More than 1.1 million people who contributed money to the campaign did so for the first time last month, accounting for 20 percent of all those who have given donations throughout the presidential race. As of October, 5.5 million donors lent support to the campaign overall, many with $5 or $10 contributions, O'Malley Dillon confirmed.
Less than three weeks ahead of Election Day, Biden's campaign has $432 million to spend after September's fundraising efforts, the campaign manager added. She did not disclose exactly how the campaign will spend it, although Biden's team is expected to share more during a Grassroots Summit set to take place on Friday.
President Donald Trump's reelection campaign had not released its September fundraising results as of Thursday afternoon. In August, the campaign reported raising $210 million since July, which was a new monthly record for the Republican incumbent. The fundraising sum trailed behind Biden's by about $150 million, but remained higher than monthly donation totals reported by past presidential campaigns. Former president Barack Obama held the previous monthly fundraising record, prior to Biden's August numbers, after raising $193 million in September 2008.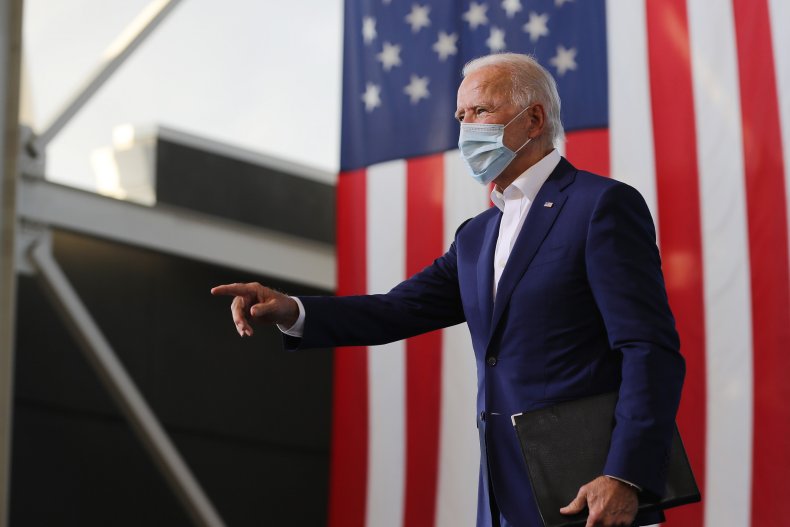 Trump and Biden's presidential campaigns each reported donation spikes between July and August, and both credited the increases to attention surrounding the Democratic and Republican National Conventions. Trump outraised Biden by about $30 million in July, acquiring $169.3 million in donations compared to the Democratic challenger's $140 million.
With the general election approaching, Trump and Biden are ramping up campaign efforts across the country, giving particular focus to rallies and ad spending in battleground states.
Newsweek reached out to Biden and Trump's campaigns for comments, but did not receive replies in time for publication.