Biden Cites Technicality as Reason to Not Place U.S. Troops in Ukraine if Russia Invades
President Joe Biden said the United States will not unilaterally send troops to Ukraine if Russia invades the Eastern European nation.
Speaking to reporters outside the White House on Wednesday, Biden was asked if he was ruling out putting military service members on the ground in Ukraine if such a scenario occurred.
"That is not on the table," he replied. "We have a moral obligation and a legal obligation to our NATO allies if they were to attack, under Article 5. That's a sacred obligation. That obligation does not extend to...Ukraine.
Biden continued, "But it would depend upon what the rest of the NATO countries were willing to do as well. But the idea that the United States is going to unilaterally use force to confront Russia invading Ukraine is not in the cards right now."
But the president said that the U.S. would "provide the defensive capability" to Ukraine.
He warned that if Russian President Vladimir Putin does decide to escalate the situation, sanctions will be delivered. Biden added that he was confident his message got delivered during their hourslong phone call on Tuesday.
"I made very it clear if, in fact, he invades Ukraine, there will be severe consequences," the president said while departing for Missouri. "Economic consequences like none he's ever seen or ever have been seen."
National security adviser Jake Sullivan told reporters Tuesday that Biden vowed the U.S. would take actions against Russia that it didn't take in 2014, when the Russians invaded and annexed Ukraine's Crimean Peninsula.
Sullivan declined to provide specifics on what sanctions are being considered, saying that the administration doesn't want to negotiate in public and "telegraph our punches."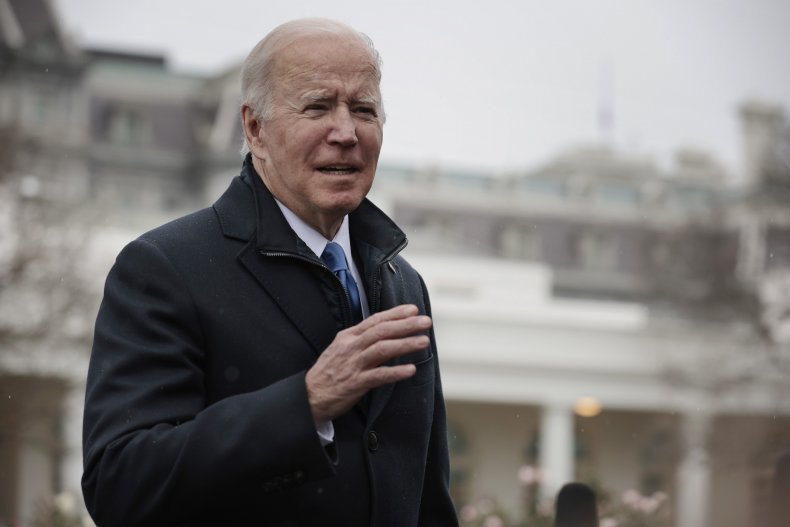 "As we pursue diplomatic channels, we will also prepare for all contingencies, just as we have been doing for weeks now," Sullivan said. "Including through the preparation of specific responses to Russian escalation should they be required—specific, robust, clear responses should they be required."
The Kremlin said in a statement after the call that Biden "emphasized the allegedly 'threatening' nature of the movements of Russian troops near the Ukrainian borders."
Concerns about a possible Russian invasion of Ukraine have risen as Russia has amassed thousands of troops along the border in recent months.
Biden plans to speak with Ukrainian President Volodymyr Zelensky on Thursday. Zelensky has said his military is capable of fighting off a Russian attack, Reuters reported on Monday.
"The servicemen of the Armed Forces of Ukraine continue to fulfil their most important mission — to defend the freedom and sovereignty of the state from the Russian aggressor," Zelensky said in a statement.