Biden Claims 'America's Back' in Thanksgiving Message Amid Inflation, COVID Surge
President Joe Biden called in to the Macy's Thanksgiving Day Parade on Thursday saying "America's back," as U.S. inflation hits record highs and the coronavirus is again surging in most states.
Biden and first lady Jill Biden called NBC's Today anchor Al Roker during New York City's annual parade in order to give a Thanksgiving address to Americans.
"My message is after two years, you're back, America's back," Biden said. "There's nothing we're unable to overcome, Al, and you're one of the reasons for that, pal. You're always up. You're always rooting."
Biden's message came as the annual Thanksgiving parade was in full swing after it was forced to significantly scale back operations last year due to the pandemic. The president's optimistic remarks also come as the U.S. continues its vast vaccination program, with nearly 70 percent of the total population vaccinated having received at least one dose.
However, Biden's statement implying that the U.S. is back to normal was also heard amid a 31-year-high for inflation rates, and as virus cases continue to tick up across the country.
Earlier this week, CNN reported that current inflation levels may cause this year's Thanksgiving to be the most expensive in history. Figures from the American Farm Bureau Federation revealed that the average cost of a Thanksgiving meal is up to 14 percent higher compared with last year.
From fuel to food, prices have reached their highest levels in decades across various sections of the economy. Last month, groceries were an average of 5.4 percent higher than the same period last year, while overall inflation rose by 6.2 percent. Gas prices also surged throughout October and November, prompting Biden to authorize the release of 50 million barrels of oil from the U.S. Strategic Petroleum Reserve in an effort to ease costs during the holiday.
"American consumers are feeling the impact of elevated gas prices at the pump and in their home heating bills, and American businesses are, too, because oil supply has not kept up with demand as the global economy emerges from the pandemic," the White House said this week.
"That's why President Biden is using every tool available to him to work to lower prices and address the lack of supply."
The president and Federal Reserve officials have maintained that while inflation is higher than expected, the issue is a temporary result of the coronavirus pandemic and will go back down as issues with the global supply chain are solved.
Nonetheless, the issue has proved a major headache for the Biden administration, and has seen his approval rating job to as low as just 38 percent. Consumers across the country have expressed frustration at higher prices, with some claiming that its becoming difficult to buy basic necessities.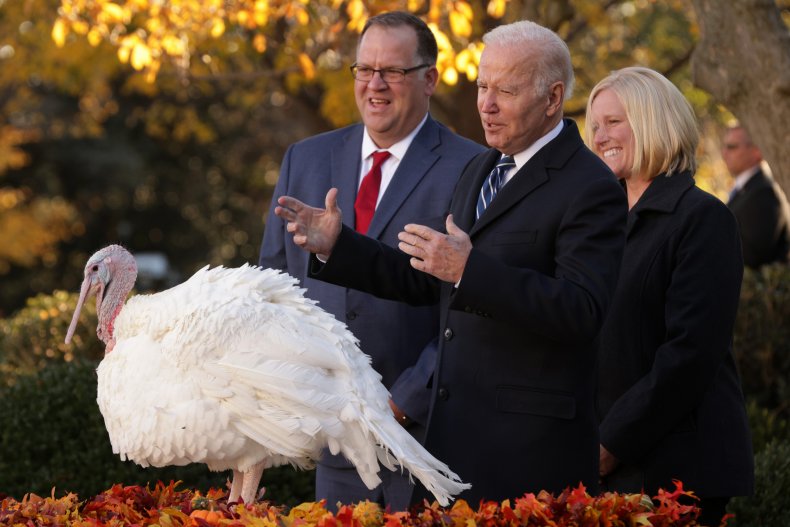 Meanwhile, health officials have sounded the alarm over rising virus cases throughout most of the U.S. According to the data compiled by Johns Hopkins University, at least 24 states have seen 100 percent increases in daily COVID cases this month.
New daily cases are now topping more than 90,000, while more than 30 states are seeing sustained upticks in infections, according to The New York Times. In the hardest-hit regions, like the Northeast and Midwest, hospitalizations are also beginning to soar and intensive care units are again running out of beds.
The Biden administration has continued to push for greater progress in vaccinations to combat the pandemic. Earlier this month, the Centers for Disease and Prevention (CDC) approved a pediatric vaccine for children as young as five years old.
So far, over 69 percent of the U.S. population has received at least one dose of a COVID-19 vaccine, while more than 59 percent is fully vaccinated, according to the CDC. On Wednesday, Biden touted his administration's successes, noting that with higher vaccination rates, more families will be able to gather for the holiday.
"We've made progress over the last ten months: unemployment is down to 4.6%, wages are rising, disposable income is up, and millions of Americans will be reuniting with their loved ones for Thanksgiving. We're grateful that families can gather safely thanks to the vaccine," Biden tweeted.
Newsweek contacted the White House for additional comment.