Biden Claims He Visited Tree of Life Synagogue After Mass Shooting, They Say He Didn't
President Joe Biden claimed Thursday that he spent time at the Tree of Life Synagogue in Pittsburgh, Pennsylvania after the devastating mass shooting there in 2018—but the synagogue's leadership has disputed that claim and said he did not visit.
Biden made the remark during a virtual call with Jewish leaders ahead of the Rosh Hashanah holiday next week. The president raised concerns about antisemitism and hatred toward minority groups, and then mentioned a supposed visit to the Tree of Life synagogue.
"I remember spending time at the—you know, going to the—you know, the Tree of Life Synagogue, speaking with the—just—it just is amazing these things are happening—happening in America," the president said. This was an apparent reference to the October 27, 2018 mass shooting carried out by an alleged white supremacist terrorist at the worship center, which left 11 people dead.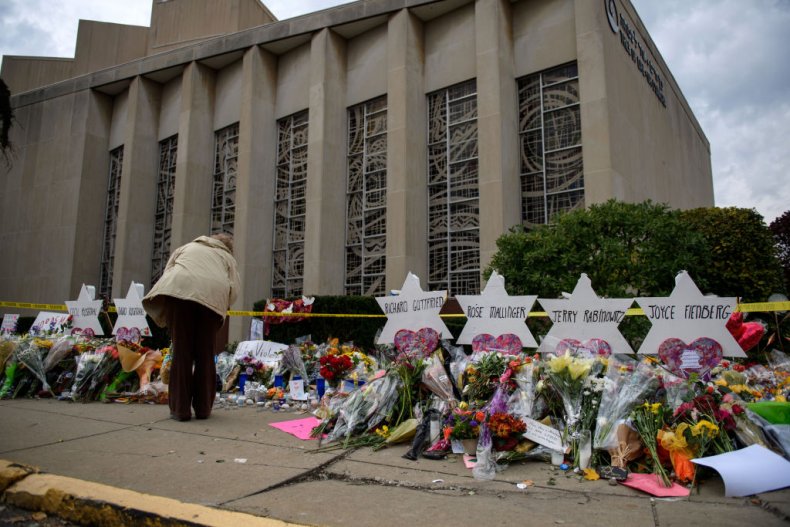 After the president's remarks, Barb Feige, executive director of the Tree of Life, told the New York Post that Biden had not visited the synagogue in the nearly three years since the antisemitic attack took place. Feige reportedly responded with a firm "no," when asked if Biden had visited at any point—even before taking office when he was just the former vice president and later a Democratic presidential candidate.
Newsweek reached out to the White House for further comment but did not immediately receive a response. The New York Post and CNN both reported that the White House did not return their requests for comment either.
CNN's fact checker Daniel Dale asserted that the news network could not find any reports or evidence to support the president's claim he visited the synagogue. Dale said it's unclear whether Biden may have called and spoken with Tree of Life leaders or members in the aftermath of the horrific attack.
In a statement emailed to Newsweek on Friday afternoon, Tree of Life's Rabbi Hazzan Jeffrey Myers said Biden called him in July 2019 after he testified before Congress.
"In a heartfelt way, he extended his condolences and asked how we were doing. We spoke about the challenges of antisemitism, and he made clear he would confront it with us as president," Myers said. "The conversation meant a great deal to me, and I will always be grateful for his kind words and continued support of our community."
Robert Gregory Bowers, 46, allegedly carried out the mass shooting, which also wounded six people. Although Bowers was shot multiple times and arrested by police at the scene, he has pleaded "not guilty." The alleged mass shooter has been charged with more than 60 federal crimes and faces more than 30 charges in Pennsylvania state court.
During a Wisconsin rally just days after the 2018 Tree of Life attack, Biden suggested blame should be placed on former President Donald Trump. "I am sick and tired of this administration. I'm sick and tired of what's going on. I'm sick and tired of being sick and tired, and I hope you are, too," Biden, who was still contemplating his presidential run at the time, said at the Madison event, The Washington Post reported.
Biden pointed to "three times this past week" in which he said the "forces of hate have terrorized our fellow Americans for their political beliefs, the color of their skin, or their religion." The former vice president was apparently referring to the Tree of Life attack, as well as a Florida man who allegedly sent mail bombs to prominent Trump critics and two Black shoppers being killed by a white gunman in Kentucky that past week.
Updated 09/3/2021, 3:02 p.m. ET: This story has been updated with a statement from Rabbi Hazzan Jeffrey Myers.