Biden Condemns Anti-LGBTQ+ Legislation in National Coming Out Day Message
President Joe Biden praised the "courage" of LGBTQ+ people Monday in a statement recognizing National Coming Out Day, while also criticizing legislation that discriminates against the community.
"Today and every day, I want every member of the LGBTQ+ community to know that you are loved and accepted just the way you are—regardless of whether or not you've come out," Biden said.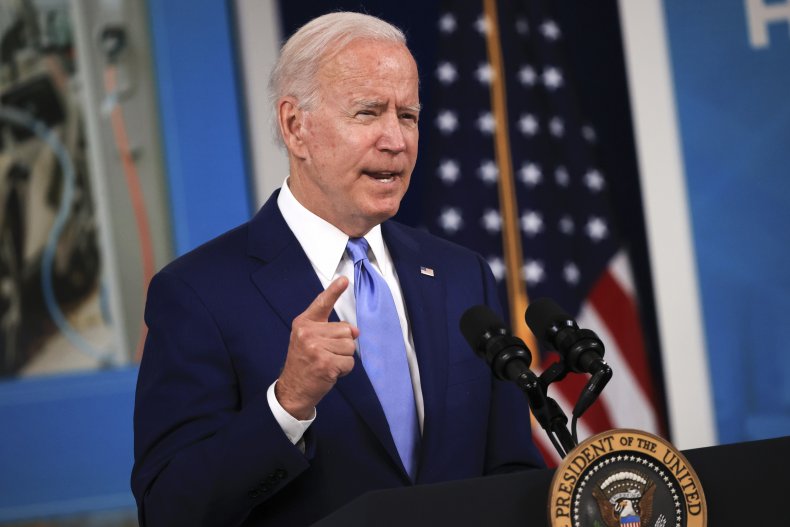 Elsewhere in the statement, the president said, "Despite the extraordinary progress our nation has made, our work to ensure the full promise of equality is not yet done. Anti-LGBTQ+ bills still proliferate in state legislatures."
"Bullying and harassment—particularly of young transgender Americans and LGBTQ+ people of color—still abounds, diminishing our national character," he continued. "We must continue to stand together against these acts of hate, and stand up to protect the rights, opportunities, physical safety and mental health of LGBTQ+ people everywhere."
According to Politico, there have been around 130 bills across 35 states that dealt with transgender issues in 2021 alone. Much of this legislation was designed to restrict trans athletes from participating in youth sports.
"From acting on Day One to prevent and combat discrimination, to enabling all qualified Americans—including transgender Americans—to serve their country in uniform, to defending the human rights of LGBTQ+ people around the world, my administration has been clear that we will continue to champion the dignity, equality, and well-being of the LGBTQ+ community," Biden said Monday.
National Coming Out Day was first established in 1988 by author-psychologist Robert Eichberg and Jean O'Leary, who was the head of the National Gay Rights Advocates in Los Angeles. The day was created to promote positivity and celebrate people publicly coming out about their sexual orientation or gender identity.
Although Barack Obama acknowledged the day during his presidency, Donald Trump ignored it while he was in office. In the lead-up to the 2020 presidential election, Biden and future Vice President Kamala Harris both issued statements on Twitter in support of National Coming Out Day. On the same day, Trump tweeted a message, which was flagged as misleading by Twitter, that claimed White House doctors told him he's immune from COVID-19 after having recently contracted it.
On Monday, Biden said, "My administration is committed to ensuring that LGBTQ+ people can live openly, proudly, and freely in every corner of our nation."
The president concluded his statement with a promise to the LGBTQ+ community that his administration "will always have your back, and we will continue fighting for the full measure of equality, dignity and respect you deserve."